One of the assignments during my Spring Children's Literature course at UCF was creating a mini-teaching guide for the books we read for book clubs. We started with picture books for practice then students created them in their book clubs each week.
Today, I am happy to share the classroom uses and discussion questions found by my UCF Elementary Education students about these realistic fiction books.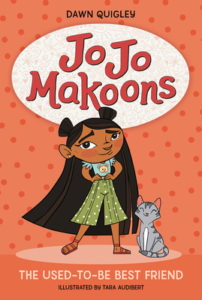 Jo Jo Makoons: The Used-to-be Best Friend
Author: Dawn Quigley
Illustrator: Tara Audibert
Published May 11th, 2021 by Heartdrum
Summary: Hello/Boozhoo—meet Jo Jo Makoons, a spunky young Ojibwe girl who loves who she is.
Jo Jo Makoons Azure is a spirited seven-year-old who moves through the world a little differently than anyone else on her Ojibwe reservation. It always seems like her mom, her kokum (grandma), and her teacher have a lot to learn—about how good Jo Jo is at cleaning up, what makes a good rhyme, and what it means to be friendly.
Even though Jo Jo loves her #1 best friend Mimi (who is a cat), she's worried that she needs to figure out how to make more friends. Because Fern, her best friend at school, may not want to be friends anymore…
Teachers' Tools for Navigation: This book can be used in the classroom as a tool to show the students that it's important not to assume what another student is thinking. It is always best to vocalize concerns
Discussion Questions: 
Describe what a reservation is according to the book?
Why did Kokum (grandma) move in with Jo Jo and her mom?
In what ways are cats and balloons different?
Why did Jo Jo Makoons cut the toes out of her socks? What did she do with them?
What happens when Jo Jo takes Mimi to school?
What did the new girl, Susan do when she saw Mimi in the classroom?  How did JoJo feel about Susan's reaction?
What are some ways you may relate to Jo Jo?
Has anybody ever felt like they might lose their best friend? Why?
How do Jo Jo's classmates help her see that they are friends at the end of the story.
What does it mean to be a good friend to you?
What are some positive traits we could learn from Jo Jo?
In the Book Jo Jo cut out the toes in her socks. Why did she do this?
Why do you feel that Jo Jo felt left out at school?
Why was it so important for Jo Jo to bring MiMi to school with her?
What ways could JoJo have approached her classmates at lunch before getting upset about eating alone?
Why do you feel it's important for Jo Jo and her family to learn and know the language of her Ojibwe tribe?
What could JoJo have done better for her original rhyme to make it better?
Like Jo Jo if you had to bring your best friend to class with you, who would it be and why?
How did you feel about the nickname Jo Jo made for Chuck?
Why do you think Jo Jo thought the Gym teacher's name was Jim?
Recommended For: 
---
The Length of a String
Author: Elissa Brent Weissman
Published May 1st, 2018 by Dial Books
Summary: Imani is adopted, and she's ready to search for her birthparents. But when she discovers the diary her Jewish great-grandmother wrote chronicling her escape from Holocaust-era Europe, Imani begins to see family in a new way.
Imani knows exactly what she wants as her big bat mitzvah gift: to meet her birthparents. She loves her family and her Jewish community in Baltimore, but she has always wondered where she came from, especially since she's black and almost everyone she knows is white. When her mom's grandmother–Imani's great-grandma Anna–passes away, Imani discovers an old diary among her books. It's Anna's diary from 1941, the year she was twelve–the year she fled Nazi-occupied Luxembourg alone, sent by her parents to seek refuge in Brooklyn. Written as a series of letters to the twin sister she had to leave behind, Anna's diary records her journey to America and her new life with an adopted family. Anna's diary and Imani's birthparent search intertwine to tell the story of two girls, each searching for family and identity in her own time and in her own way.
Teachers' Tools for Navigation: Use this book to discuss and learn about History-World War II/Holocaust, the Jewish faith, and adoption.
This book is educational because it discusses the Holocaust from the point of view of someone who experienced it. It also has an engaging story line that makes readers want to read more to find out what will happen. This book would be very useful when teaching about the Holocaust.
Discussion Questions: 
How do you think Imani felt when she started to read about Anna's life in her diary?
Think of a time you felt out of place and write about how that made you feel.
Why do you think Imani's mom cries so much?
Have you ever felt a special connection with someone in you family?
If you were Imani, would you continue to look for your birth parents?
Suppose you wrote a diary about something that you want people/family in the future to know. What would it be about and why?
What are some special celebrations that you do with your family?
If you were Imani's friend, what advice would you give her as she goes through this journey?
What is something you have that is special that you think you will give to someone in the future?
Why do you think people living around Imani insensitive questions?
Recommended For: 
---
Melissa
Author: Alex Gino
Published August 25th, 2018 by Scholastic
Summary: When people look at George, they think they see a boy. But she knows she's not a boy. She knows she's a girl.
George thinks she'll have to keep this a secret forever. Then her teacher announces that their class play is going to be Charlotte's Web. George really, really, REALLY wants to play Charlotte. But the teacher says she can't even try out for the part . . . because she's a boy.
With the help of her best friend, Kelly, George comes up with a plan. Not just so she can be Charlotte — but so everyone can know who she is, once and for all.
Teachers' Tools for Navigation: This story is a good teachable book where certain themes can be brought up and talked about within the classroom setting. Where students can ask questions that may push boundaries but can be answered in a professional setting. This novel would be useful in the classroom to teach and promote gender diversity. This book would also be great as a classroom library so that students who may be facing these issues will have something relatable to read.
Discussion Questions: 
Identify some ways Melissa being trans affected their life.
Think about a moment when someone in the book was bullied. What could have been done differently?
Why do you think Melissa was so scared to tell her parents about who she is?
What does it mean to be an Ally?
Describe two ways someone else helped Melissa.
Describe Melissa's disposition throughout the book. How did it change?
Do you think that it was a good idea to talk to a therapist about the issues between Melissa and her mom?
Write about a time you felt scared to tell someone the truth.
If you were in Melissa's class what would you do to make her feel welcome?
Sketch a scene from the book. Why did you pick that scene?
Why do you think the author chose to use the pronoun "she" when describing or referring to George?  Does this make a difference to the way you feel about the character?
How do you think George feels having to keep this big secret inside?  (Use text evidence to support your claims.)  Have you had to keep a secret about yourself — how does this make you feel?  Without revealing the secret (unless you feel comfortable), share or write about this experience and how you were affected.
George eventually reveals her secret to those she cares about.  How does this make her feel?  (Use text evidence to support your claims.)  What are some consequences of "hiding" vs. "being yourself"?
What do you think it takes to "be yourself"? What are some pros and cons of being who you are?  What are some other examples of "being yourself" that might be scary for kid?
Share or write about a time where you had to be brave enough to be who you are.  What made you finally do it, and what effects did the experience have on your life?
People reacted differently to George's revelation. Discuss how they differed and possible reasons why (try to think about this from the person's point of view).  How do you think you would react if you were each of these individuals?

Classmates
George's mom and big brother
School teacher/principal
George's best friend Kelly
Kelly's dad and uncle

Discuss diversity, acceptance/tolerance, prejudice, bullying, compassion, etc.  Come up with real-life examples. What are some way your classroom/school/family/community could be more accepting of those who might be different from you?
Towards the end of the book, the author switches to the name Melissa when referring to George.  Why do you think they chose to do that?
How does Melissa feel in the first few chapters of the book?
How does Melissa feel at the end of the book?
Why did Ms.Udell not let Melissa play Charlotte?
Have you ever felt lost or scared to tell the truth? If so, how did that make you feel?
If Melissa was in your class, what are some ways you could make her feel welcomed?
Name a few things that Melissa had to struggle with, because she wanted to be trans.
Recommended For: 
---
Merci Suárez Changes Gears
Author: Meg Medina
Published September 11th, 2018 by Candlewick Press
Summary: Thoughtful, strong-willed sixth-grader Merci Suarez navigates difficult changes with friends, family, and everyone in between in a resonant new novel from Meg Medina.
Merci Suarez knew that sixth grade would be different, but she had no idea just how different. For starters, Merci has never been like the other kids at her private school in Florida, because she and her older brother, Roli, are scholarship students. They don't have a big house or a fancy boat, and they have to do extra community service to make up for their free tuition. So when bossy Edna Santos sets her sights on the new boy who happens to be Merci's school-assigned Sunshine Buddy, Merci becomes the target of Edna's jealousy. Things aren't going well at home, either: Merci's grandfather and most trusted ally, Lolo, has been acting strangely lately — forgetting important things, falling from his bike, and getting angry over nothing. No one in her family will tell Merci what's going on, so she's left to her own worries, while also feeling all on her own at school. In a coming-of-age tale full of humor and wisdom, award-winning author Meg Medina gets to the heart of the confusion and constant change that defines middle school — and the steadfast connection that defines family.
Teachers' Tools for Navigation: This book would be useful in a classroom for teachers to expose a lot of topics to students such as bullying, family relations, and relatable school interactions like wanting to play sports or friendships and grades. As well as students that are nervous about their 6th grade year or also starting sixth grade read about someone going through the same things as them.
Discussion Questions: 
What do you think caused Lolo to pick up the wrong twins?
Why do you think Merci and Edna are not friends?
Why do you think Edna is worried about appearances and mercy is not?
After their first interaction, do you think Merci will end up enjoying Michael as a sunshine buddy?
If you were a new kid would you want a sunshine buddy? Would you want to be a sunshine buddy? Why or why not?
Do you think Merci handled her situations maturely? Why or why not ?
Why did Merci's parents hide Lolo's conditions from her ?
How would you describe Merci's relationship with her grandfather?
Do you think Merci's culture made her feel different from her peers at school ? Why or Why not ?
How would you handle being falsely accused of something you didn't do like Merci when edna destroyed the mask ?
Recommended For: 
---