Battle Bunny
Authors: Jon Scieszka and Mac Barnett
Illustrator: Matthew Myers
Published October 22nd, 2013 by Simon & Schuster Books for Young Readers
Goodreads Summary: Alex has been given a saccharine, sappy, silly-sweet picture book about Birthday Bunny that his grandma found at a garage sale. Alex isn't interested; until he decides to make the book something he'd actually like to read. So he takes out his pencil, sharpens his creativity, and totally transforms the story!
Birthday Bunny becomes Battle Bunny, and the rabbit's innocent journey through the forest morphs into a supersecret mission to unleash an evil plan; a plan that only Alex can stop.
Featuring layered, original artwork that emphasizes Alex's additions, this dynamic exploration of creative storytelling is sure to engage and inspire.
My Review: This book made me laugh out loud! What a perfect insight into the mind of a young boy (reminds me of so many doodles I've seen on papers over the year!).  Also, I was blown away by the creativity of Sceiszka and Barnett.  I wish I was teaching in a classroom because it would have been a book that I would have brought into the classroom to share with kids (yes, even my middle schoolers. Actually, definitely my middle schoolers.) because it is just so awesome!
Teachers Tools for Navigation: This picture book would be so much fun as a read aloud (original story than the modified one). Also, I can also picture bringing in picture books (maybe older ones or bought at a used book store) and letting the students modify their own! And so much creativity, vocabulary, cleverness, imagination, etc. are needed to transform a text the way Alex did–it'd be such a fun yet tough activity.
There is even a Battle Bunny website (http://mybirthdaybunny.com) where you can make your own story. They give you the original Birthday Bunny text and let you make your own. They actually provide PDFs of the entire text!  Also on the website are educators information that includes a curriculum guide.
Discussion Questions: What other stories could you build around Birthday Bunny?; (Writing activity) Using the picture book you were given, create a new story by changing words and adding photos.
We Flagged: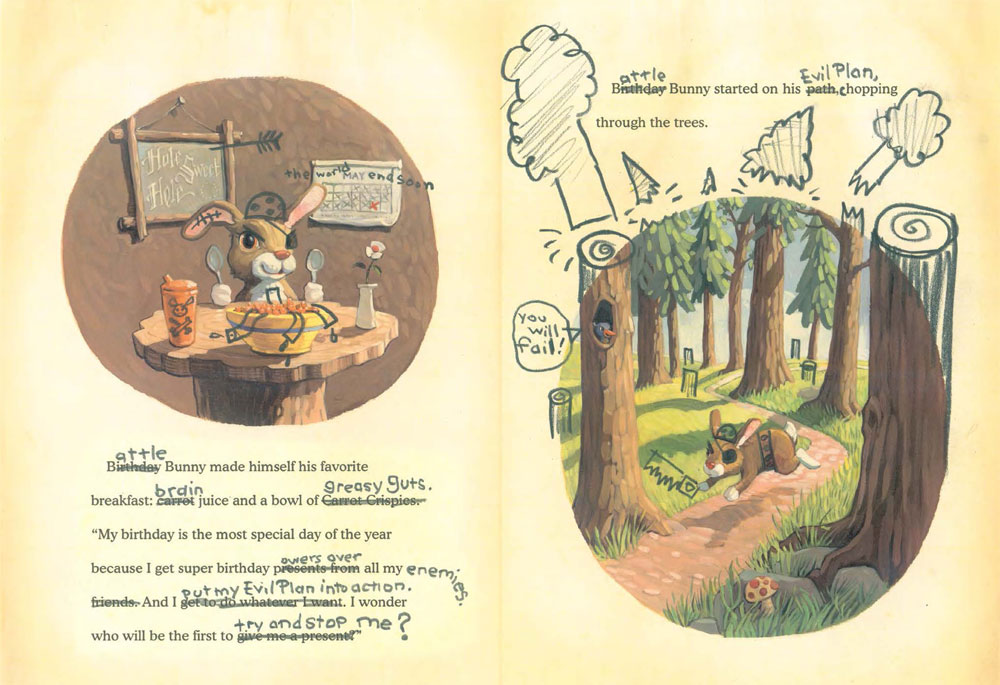 Read This If You Loved: Scaredy Squirrel books by Melanie Watts, Bananas in my Ears by Michael Rosen, The Stinky Cheese Man by Jon Scieszka, You Will Be My Friend by Peter Brown
Recommended For: