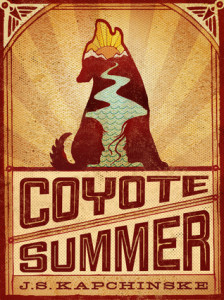 Coyote Summer
Author: J.S. Kapchinske
Published March 17, 2013 by Moon Halo Books
Goodreads Summary: Heath always looked forward to summer visits at Grandpa's—long days in the wild Rocky Mountains, fishing with Dad on the Piedra River, and nights sleeping on the screened-in porch. Plus this summer, Dad promised to finally tell him the secret about old Mrs. Baylis—a mysterious Native American woman living down the dusty dirt road… But now, after Dad's accident, it can never happen that way. Heath and his mother go to Grandpa's, but only to spread Dad's ashes in the river. 

In the beginning, Heath feels like he's been swallowed by the raging Piedra, held upside down in some dark and unforgiving eddy. But one day, wandering along the riverbank, he meets Annie, a wild-eyed tomboy who shows him a hidden cave with a litter of orphaned coyote pups. Together they discover the cave holds another secret—one that might help them figure out the mystery of old Mrs. Baylis. During that summer in the mountains, Heath comes to realize there is both beauty and ugliness in the world, sometimes all tangled together. By opening himself up to Annie and the coyotes, he rediscovers hope and joy in this big, beautiful, mixed-up world.
My Review: You have never heard of this book have you? That makes me so sad. How do such wonderful books fly under so many people's radars? This is a special book that should be in the hands of middle schoolers everywhere! Heath is a character that so many kids will connect with, and his journey would definitely touch them like it did me.
Heath recently lost his father senselessly when he was hit by a drunk driver. The sudden loss of a man that Heath looked up to affects him tremendously, and he is struggling to find himself. Everything he does at his Grandpa's house reminds him of his dad, and his mom and Grandpa are dealing with the death in a way that makes Heath feel alone.  But during this summer, his coyote summer, he finds his own identity, makes an everlasting friend, and begins to figure out how to deal without his dad. And there are other subplots that run throughout he book that just add to the depth of the narrative such as Annie's story and the story of Mrs. Baylis.
Teachers' Tools for Navigation: This book just needs to be shared. It could definitely be read as a read aloud, but it will probably find its home the best in the right students' hands either through the classroom library or lit circles. Students who love nature, have suffered a loss, or enjoy identity books will find this one is perfect for them.
Discussion Questions: How does finding Annie and the coyotes change Heath's summer?; Why is Grandpa acting the way he is?; Why was it important for Heath to spend the summer with the coyotes? How did it affect him?
We Flagged: "As we sat there, a heron swooped down on the far bank and began stalking the shallows for fish. He moved slowly and hardly made a ripple when he walked. Then he stretched his long neck over the water, cocked his head, and froze.
"He's pretty," the girl said under her breath, as if talking to herself.
Somehow, her saying that made me feel better. "Herons were my dad's favorite. He told me we should all learn to be patient like one of them."
"Your dad sounds nice."
I looked down at my hands and felt that horrible lump in my throat." (Location 196, Kindle book)
Read This If You Loved: Hoot, Flush, Chomp, or Scat by Carl Hiassen, Lost in the River of Grass by Ginny Rorby, My Side of the Mountain by Jean Craighead George, Hatchet by Gary Paulsen
Recommended For:
**Thank you to the author for providing a copy for review**