Nonfiction Picture Book Wednesday
Nonfiction Picture Book Wednesday is hosted by Kid Lit Frenzy and was started to help promote the reading of nonfiction texts. Most Wednesdays, we will be participating and will review a nonfiction text (though it may not always be a picture book).
Be sure to visit Kid Lit Frenzy and see what other nonfiction books are shared this week!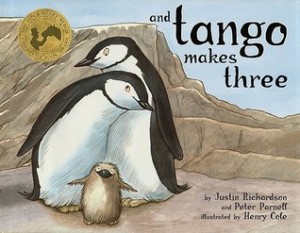 And Tango Makes Three
Author: Justin Richardson and Peter Parnell
Illustrator: Henry Cole
Published June 1, 2005 by Simon & Schuster Books for Young Readers
Goodreads Summary: In the zoo there are all kinds of animal families. But Tango's family is not like any of the others. This illustrated children's book fictionalizes the true story of two male penguins who became partners and raised a penguin chick in the Central Park Zoo.
Kellee's Review and Teachers' Tools for Navigation: I love penguins. I hate books being challenged. And Tango Makes Three is a wonderful book, a true story about penguins, that is on the top ten list of most frequently challenged books in 2012, 2010 (#1), 2009, 2008 (#1), 2007 (#1), and 2006 (#1). Why you ask? Because it happens to be too real for some people.
This story is a beautiful story of love and parenthood, and there are people who do not want it to be shared just because the love is between two male penguins. With the recent focus on the need for diverse books for our children, And Tango Makes Three is a perfect way to introduce the idea of diverse families to children.
[Aside: I just don't understand how someone can challenge a true story! Well, I don't understand how anyone can challenge anything, but a true story just doesn't make sense! It would be like trying to ban a nonfiction book about the Holocaust because it is too hard to read. This story is TRUE, how can you argue with it?! I am just flabbergasted. I think the idea of the challenge comes from A) the idea that the book may have an agenda; B) that this topic is inappropriate for children. However, if you have read the book, you know that the story is told without an agenda. Nowhere in the book does the author share opinions or have any sort of propaganda, they just tell Roy and Silo's story which is a wonderful story about a family, nothing more.]
Ricki's Review and Teachers' Tools for Navigation: I chuckled as I read Kellee's review. This is the reason I love blogging with her. She is very passionate, and she has students' best interests in mind. I heard about the negativity behind this picture book before I read it. When I was making a list of the books I wanted to request from other libraries, this one came to mind. Censors often don't realize that by banning a book, they are promoting it. The title stood out in my head because I knew it was controversial, even though it was published years ago. Like Kellee, I was surprised to read the book. There is no agenda! It is a true story about penguins—not a book where authors are trying to promote homosexuality or show anything about sexuality. To be honest, I found the book to be incredibly innocuous.
As Kellee stated, this is a book that would be great to show the various types of families. We need to face reality. Our students come from different types of families, and it is harmful solely to promote the "traditional family" to children. If students aren't learning about different family structures, they may feel different or alienated. We must teach students to celebrate their differences, rather than push them to feel negativity because they don't fit the mold of two parents, 2.5 children, and the dog named Spot.
I would also consider pairing this book with desire. Roy and Silo watch the other families and want an egg of their own. They even adopt a rock. I'd ask students to share what they most desire, and whether this desire is possible—even if it comes in a different form than they imagined. The egg Roy and Silo adopt is not what they imagine, but they make it their own. Students can learn a lot from this.
Discussion Questions: There are many different types of families and Roy and Silo are just one example of a diverse family. What are some other varieties of family?; How were Roy and Silo able to have a child?; How are you different? How is your family different? How might we celebrate these differences?
We Flagged: "Two penguins in the penguin house were a little bit different. One was named Roy, and the other was named Silo. Roy and Silo were both boys. But they did everything together. They bowed to each other. And walked together. They sang to each other. And swam together. Wherever Roy went, Silo went too." (p. 10-11)
Read This If You Loved: Tacky the Penguin by Helen Lester, Penguin on Vacation by Salina Yoon, If You were a Penguin by Florence Minor, ABC A Family Alphabet Book by Bobbie Combs, Donovan's Big Day by Lesléa Newman, The Family Book by Todd Parr
Recommended For: