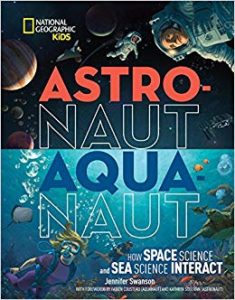 Astronaut, Aquanaut: How Space Science and Sea Science Interact
Author: Jennifer Swanson
Foreword by Fabien Cousteau and Kathryn D. Sullivan
Published January 9th, 2018 by National Geographic Society
Summary: Journey from the deepest trenches in the oceans to the farthest humans have ventured into space and learn what it takes to explore the extremes. You might just be surprised by how similar the domains of ASTRONAUTS and AQUANAUTS really are.
Space and the ocean. If you don't think they go together, think again! Both deep-sea and space explorers have to worry about pressure, temperature, climate, and most importantly, how to survive in a remote and hostile environment. Join us on an amazing journey as we go up in space with astronauts and dive deep down in the ocean with aquanauts to explore the far-off places of our planet and the solar system.
With a strong tie into STEM topics–such as making connections, making comparisons, and recognizing patterns across content areas–readers will discover the amazing science and incredible innovations that allow humans (and sometimes only machines) to survive in these harsh environments.
Review: First, I want to share this image because it is one of my favorites ever, and I want a poster of it for Trent's room!
I love the idea of this book! First, from a personal point of view: my son loves animals and space, so this is a perfect book for him. We didn't read word for word together, but we spent hours over the last couple of weeks flipping through the book, looking at different spreads, reading parts of the book, and answering any questions that Trent had. Also, from a educator point of view: this text is so full of information told in such an interesting way with fun facts, activities, and so much fascinating information! Swanson did a beautiful job making connections between the two professions and scientists and giving equal looks into both. And since the book is for middle grade students, it is essential for it to be written in a way that will be intriguing to readers, and this book is definitely that!
Teachers' Tools for Navigation: Throughout the book there are questions that can lead to inquiry (see below) and many topics that are introduced that could be further researched. Additionally, there are a few activities throughout such as one on submersibles, docking the ISS, and design your own space suit. The book is also set up for comparing and contrasting looking at exploration in both space and the sea and how they differ and overlap.
Discussion Questions: The text is FILLED with books that can lead to phenomenal discussions or inquiry projects such as
How does studying the topography of the ocean floor help us understand the space?
Why is it important for astronauts to train underwater?
What does it feel like during blastoff?
What is it like to live in space/under water for a long time?
Why and how do we explore?
How can studying the ocean help astronauts better understand conditions in space?
What can space teach us about the ocean?
Flagged Passages: 
Read This If You Love: Space travel, Science, Marine biology
Recommended For: 
**Thank you to the author for providing a copy for review!**