A Dream of Birds
Author: Shenaz Patel
Illustrator: Emmanuelle Tchoukriel; Translator: Edwige-Renée Dro
Published August 16, 2022 by Amazon Crossing
Summary: Sara has a thing for birds. They remind her of her grandfather, who loved birds, and the wonderful show the creatures would put on in his yard each day―like a cloud of colorful flowers carried by the wind.
As Sara walks to school in her island town, she longs for the freedom of those birds. Then she spots a new birdhouse full of parakeets in someone's yard. Sara feels drawn to them and unable to forget them. So what happens the next time, when she finds the door to the birdhouse unlocked?
With poetic language and beautiful art, this story set on the African island of Mauritius brings to life a little girl's deep love of nature, her brash but well-meaning choice, and ultimately, her redemption and dream for a better world.
About the Creators:
Shenaz Patel was born and lives on Mauritius Island. She has several jobs: journalist, playwright, novelist, and translator, and she is also a comics and children's book author. She has written nine books for children, including A Dream of Birds, which was first published in French and English in Mauritius and France. She was named Chevalier des Arts et des Lettres in 2013, a high honor given by the French minister of culture.
Emmanuelle Tchoukriel was born and lives in France. Passionate about nature, she studied visual communication before entering the Estienne School in Paris. She specialized in scientific drawing, and she excels in illustrating flora and fauna. On Instagram: @emanuelle_tchoukriel
Edwige-Renée Dro is a writer, translator, and literary activist from the Ivory Coast, in Africa. Her writings have been published in anthologies such as New Daughters of Africa and Africa39, among others. She has judged many literary prizes, including the PEN International New Voices Award and the Etisalat Prize for Literature. She was awarded the Miles Morland Writing Scholarship in 2018 and is a 2021 resident of the International Writing Program at the University of Iowa. Learn more at edwigedro.wordpress.com. Twitter: @DroEdwige; Facebook: Renée Edwige Dro
Ricki's Review: For me, this beautiful translation is about freedom and preservation. It reminds readers to pause and pay attention to the world around them and to act. It allows readers opportunities to evaluate the decisions they have made in their lives and the impact they have. It also allows readers to consider the lessons they have learned throughout their lives. A Dream of Birds celebrates the diversity of birds in Mauritius, an African island in the Indian Ocean, and it celebrates the passion and commitment of a child.
I loved how the backmatter gave more background of the story. This book is a translation, and there are more words on the page than stories I'd typically find in US households. Yet my kids (ages 8, 5, and 3) sat and listened to the story without breaking their gaze. They were drawn in by the onomatopoeias, the engaging story, and the bright illustrations. We need more international literature in our schools and homes, and this book shines brightly.
Kellee's Review: Sara's story is multi-faceted. It is a story of captivity and longing and family and memories. It is a story of beauty and nature and freedom and dreams. It is also a story of reality and consequences.
The story looks at Sara who meets a man with pet birds which reminds her of feeding wild flocks of birds with her grandfather. She hates seeing the captured books, all wings and beauty, not allowed to be free, so she makes a rash decision and frees the birds. Although her motives are made clear, her mother also explains to her that it was wrong to let domesticated birds go–this is a good lesson because it distinguishes between a well meaning action and a well thought out positive action. The book ends with a celebration of the diverse birds on Mauritius, an African Island in the Indian Ocean, and a reminder to celebrate animals' wildness.
Although the narrative was a bit wordy for me at some points, the beautiful illustrations make the reader want to savor each page which helps move you through Sara's story.
Teachers' Tools for Navigation: Students might use this book as a jumping off point to learn more about Mauritius, Africa, and the Indian Ocean. They could pick a specific topic of exploration related to their interests.
Discussion Questions:
What does Sara learn? Do you agree with the decisions she made?
What did you learn about Mauritius, Africa, and/or the Indian Ocean?
What lessons have you learned in your life?
What birds do you observe around your home?
Why was it wrong for Sara to let the birds go? Were her intentions good or bad?
Why is it important to leave wild animals wild?
Flagged Spreads: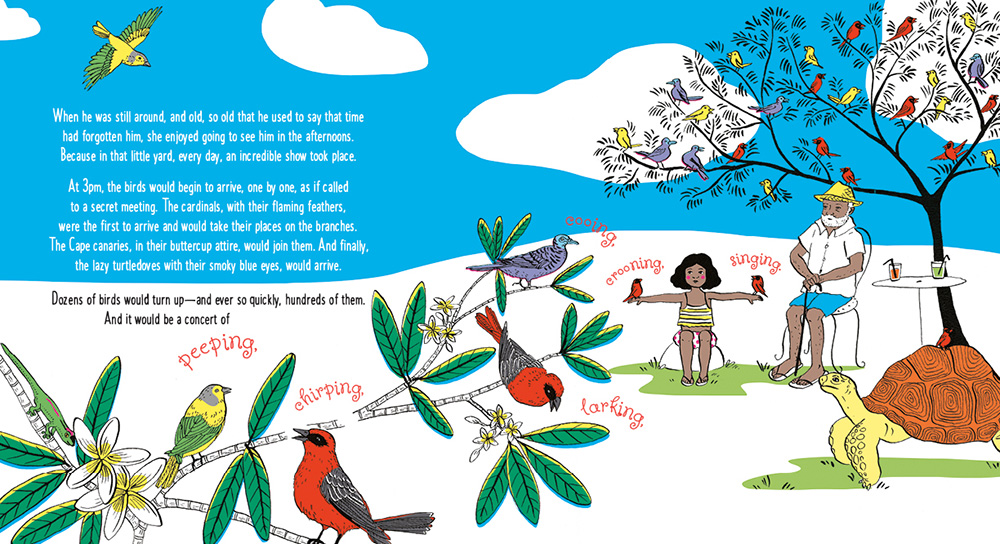 Read This If You Love: Birds, Animals, Environment
Giveaway:
Recommended For:
**Thank you to Barbara at Blue Slip Media for providing a copy for review!**
Instagram: @blue_slip_media; Facebook: Blue Slip Media