If you are anything like us right now, you are quietly panicking a bit. Our young children (three, in Ricki's case) are home for quite a while, and they cannot go to public places. This is different from the summer because…they cannot go to public places. Our parenting strategy is always to keep them busy. Our kids thrive on trips to the playground, visiting museums, play dates, etc. When we keep ourselves busy, everyone does well.
We know that online learning content offers a lot for kids. We did some hunting, and we found some screen-time options that offer great educational content. Luckily for us all, there are many generous people and companies offering educational opportunities for our kids. We're sharing the list below and invite you to share other options! Something we are trying to remember—this will hopefully be a short time period. We all hope this passes quickly. In the meantime, we are all going to do the best that we can. Solidarity with the parents and guardians out there. <3 BE WELL!
There are some incredible authors who are doing LIVE (yes, LIVE!) readings and doodle alongs of their books. We are, quite frankly, blown away and in awe of these authors. Ricki's and Kellee's children are loving so many of these! Here's amazing opportunities (some available for a limited time) for our children/students as we move to digital/distance learning:
Read Alouds
Mac Barnett, author of EXTRA YARN, SAM AND DAVID DIG A HOLE, THE TERRIBLE TWO, Shapes Series; THE TERRIBLE TWO, and so many more!
Mac is reading is books in order of publication, and he has over 40 books. We will be watching him every single day! He's quite entertaining! Follow him on Instagram* to watch live at 12pm PST or watch the video within 24 hours! He recommends that kids wear a hat, and he answers questions at the end.
Starting 3/28, Mac Barnett switched to read alouds on Monday through Friday with a Live Cartoon on Saturdays.
Starting 4/2, Mac Barnett moved to using IGTV which means the read alouds do not expire at 24 hours! And he is going back to reread all of the books that expired on IG Live.
Starting 6/1, Mac Barnett is moving to once a week Book Show Club Book Show meetings on Saturdays.
Oliver Jeffers, author of STUCK, LOST AND FOUND, The Boy Series, THE INCREDIBLE BOOK EATING BOY, ONCE UPON AN ALPHABET, HERE WE ARE, and so many more!
At 2pm EST and 11am PST starting on Monday, Oliver Jeffers will read one of his books every weekday on Instagram* Live and talk about "some of the things that went into making it." He talks about what he was thinking when he made each book, which is really neat to learn. He is archiving the videos on his website.
As of 4/29, Oliver Jeffers finished reading all of his books and is no longer doing Stuck at Home Book Club; however, they all are available on his website.
Kate Messner, author of the Over and Under Series, Ranger in Time Series, HOW TO READ A STORY, and so many more!
Kate Messner, who is always an ally to educators!, has put together a list of resources for us: "Read, Wonder, and Learn! Favorite Authors & Illustrators Share Resources for Learning Anywhere–Spring 2020" which includes so many videos, activities, and other resources!
She has also gotten permission from her publisher to do read alouds on her You Tube Channel! Including the upcoming OVER AND UNDER THE RAINFOREST which doesn't come out until August!
More read alouds available:
From April 20th to May 11th, PBS & Penguin Random House have collaborated to bring storytime with Michelle Obama. Families can tune in to the livestream on PBS Kids' Facebook page and YouTube channel, or the Penguin Random House Facebook page.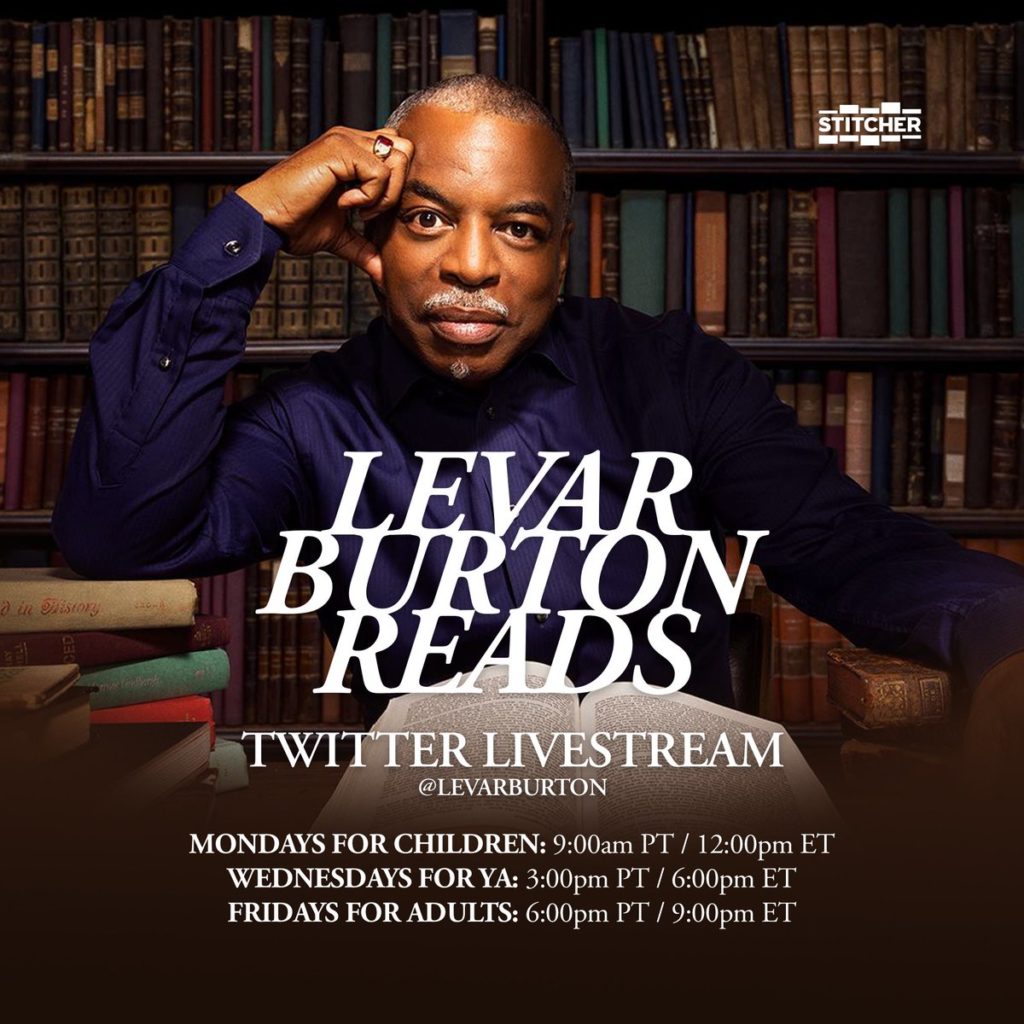 Levar Burton is back to reading stories to us, and he is reading for everyone on his Twitter Livestream!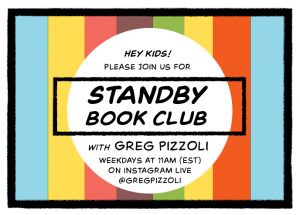 Greg Pizzoli is hosting the Standby Book Club on weekdays at 11am ET on Instagram* Live. (After 4/21, he will be moving to weekly Monday meetings at 11am ET.)
Barb Rosenstock is offering to share read alouds to some of her picture books. Please see the image above for guidelines.
Josh Funk has announced that on his Facebook he will be doing read louds there and on his Instagram.
On her You Tube channel, Laurel Snyder read aloud her newest Charlie and Mouse book and included an activity at the end. When finished, she is also reading from her picture books.
Debbie Ridpath Ohi is doing read alouds and drawings on You Tube.
Dan Gutman is reading from his books on his Facebook page and archiving them on his website.
Peter H. Reynold is doing read alouds on his Facebook page.
Julie Falatko is doing read alouds on Instagram* Live.
Megan Lacera is hosting storytimes on Twitter.
School Library Journal published an article on the 16th: "Kid Lit Authors Step Up to Help Educators, Students, and Parents"
Josh Gad is reading books on his Twitter and Instagram* accounts.
The Atlantic White Shark Conservancy is going to do Shark Story Hour every day this week at 10am on Facebook Live! Available to watch later in the day as well! (Moved to about once weekly starting in May.)
Storyline Online has videos of celebrities reading their favorite picture books.
From April 2nd to June 4th, Dolly Parton is reading books from her Imagination Library during Goodnight with Dolly on Thursdays at 9pm on her Facebook.
Daisey Ridley read BB-8 on the Run by Drew Daywalt on the Disney You Tube channel.
Check out Storytime From Space where astronauts read books from the ISS.
There is a Google Doc that is also keeping track of author read alouds and activities that include some that we do not have listed!
There are read aloud opportunities for older kids, too!
Audible is offering limited free audiobooks while school is out!
Jason Reynolds is moving his National Ambassador for Young People's Literature program online with videos and other virtual storytelling lessons through his "Write. Right. Rite. series" on the Library of Congress website.
K.A. Holt is reading from House Arrest on her YouTube channel.
Laurie Halse Anderson is promoting the #QuarantRead book club on Twitter where all ages may ask her questions.
On her YouTube channel, Kathy Burnette is reading Tracey Baptiste's THE JUMBIES and hopes to read more after that.
Grace Lin is doing read alouds from her books on You Tube.
Kenneth Oppel is doing daily read alouds from his books on You Tube.
Dan Gemeinhart is doing a Coyote Sunrise Book Club & Read Aloud on You Tube.
On Facebook and You Tube, Neal Shusterman is going to do a Storyman Virtual Reading Series reading some of his less well-known short stories. He'll be posting two or three times a week.
At-Home with Kwame Alexander includes many videos including a reading of Crossover that has been added during the quarantine.
Dav Pilkey is joining in! He's read from Dog Man and done some drawing on You Tube during Dav Pilkey at Home.
And find your next read by checking out First Lines, a video where 27 authors share the first lines of their books.
Audio Book Sync is back! SYNC is a free summer audiobook program for teens 13+. Returning April 30th and continuing 13 weeks until July 29, SYNC gives participants two thematically paired audiobooks a week.
Other Amazing Literacy Resources for All Ages
As we're moving to digital learning for our country, there has been a lot of questions about copyright behind educators recording themselves reading texts to their classes. In this tumultuous time, publishers have kindly banded together and are giving guidelines for fair use for online storytimes and read-alouds during COVID-19 school closures.
Here's an article from School Library Journal about the adapted policies publishers are putting forth to help educators (updated 4/15).
Dan Santat has created the SANTAT ONLINE SURVIVAL SCHOOL FOR THE PANDEMIC #DANDEMIC! He'll be sharing lessons on Instagram, and all lessons are available in a Drop Box as well.
Josh Funk has many activities on his website for his books.
Jarrett Lerner has activities such as "Finish the comic" on his website.
Grace Lin is starting a new podcast called Kids Ask Authors which debuted this week!
Penguin Teen has a podcast called We Are YA, and they have added new episodes called The Check In, starting with Randy Ribay.
11 Free Reading Websites for Kids
Log into Kanopy or Libby (Overdrive) and download free books (provided by libraries).
The New York Times provides daily writing prompts for free for students.
Kids can write to Pete the Cat!
Publishers Weekly posted a story on how the kid lit community responded in our time of need.
Deborah Zemke is sharing activity sheets on her website that are based on her doodle, chapter, and picture books, and the 101 Ranger Rick cartoons that she's done over the years.
Penguin Random House Audio is offering a collection of free audiobook downloads for teachers and parents with kids home from school – or anyone looking for a great story right now. The free "Listen at Home" collection of classic titles is accessible via Penguin Random House Audio's Volumes app (through 4/30).
Time for Kids has released their entire Digital Library free for the rest of the school year.
Also, amazing news: Kid Lit Authors are joining together and organizing a virtual book festival for May called Everywhere Book Fest which is archived and available.
Follow #CandlewickClassroom on social media to see videos including #WriteWithKate, weekly writing prompts and tips from Kate DiCamillo, from Kate DiCamillo. Candlewick is also hosting Instagram Live events, including My First Book Club Live with Shannon and Dean Hale talking about Princess in Black. Also, they have a You Tube playlist called Stay Home with Candlewick Press which have short and fun educational videos.
Candlewick Press also created a book about the coronavirus for children and are offering it as a free download.
Meg Cabot has found entries from Princess Mia Thermopolis of Genovia's diary, and is sharing them free on her blog with The Princess Diaries – Quarantine Edition.
The Children's Literature Assembly of NCTE (CLA) has started a twice-weekly blog intended to support PreK-12 and university teachers as they share children's literature with their students in all classroom contexts. Each entry highlights a great online resource available for teachers and how it might be effectively utilized, or offers a description of a short lesson using children's literature that educators can use in their newly located classes. New entries are posted every Tuesday and Thursday at noon.
Our friend Beth Shaum as put together a list of free or inexpensive e-book access during the quarantine.
#OneBookConnects is a part of Read to Them, a non-profit organization that focuses on family literacy, and is an "opportunity for families and schools to read the same book together digitally."
And don't forget publishers always have amazing educator guides for us to use!
Abrams: https://www.abramsbooks.com/academic-resources/teaching-guides/
Bloomsbury: https://www.bloomsbury.com/us/communities/teachers-librarians/teaching-and-study-guides/
Candlewick: https://www.candlewick.com/authill.asp?b=Author&pg=1&m=actlist&audssmenu=0200&pix=n
Chronicle: https://www.chroniclebooks.com/ (search for the book and look at available resources)
Cinco Punto Press: https://www.cincopuntos.com/teacher_resources.sstg
Disney Books: https://books.disney.com/educator-teacher-guides/
HarperCollins: https://harperstacks.harpercollins.com/resources/
Lee & Low: https://www.leeandlow.com/educators/teacher-s-guides
Macmillan: https://us.macmillan.com/educators/
Peachtree: https://peachtree-online.com/resources/teachers-guides-event-kits/
Penguin: https://www.penguin.com/school-library/teaching-guides-activity-kits/
Random House: https://www.rhteacherslibrarians.com/resources/
Simon & Schuster: https://www.simonandschuster.net/search/books/_/N-m2sl
Sourcebooks: https://www.sourcebooks.com/librarian-educator-resources.html
Guides we've shared here on Unleashing Readers: https://www.unleashingreaders.com/?s=guides&submit.x=0&submit.y=0 https://www.unleashingreaders.com/?s=educator+guide
**Please note: This is just a small sampling of all of the amazing publisher resources out there!
Doodle Alongs
Ben Clanton, Author of the Narwhal and Jelly Book Series, BOO WHO?, and so many more!
Ben Clanton will be reading and drawing Tuesday and Friday this week. Our kids are very excited for this one.
Note: Now that these FB Live events have passed, Ben is moving to Instagram* Live each Monday at 12:30pm ET.
Jarrett J. Krosoczka, author of the Lunch Lady Series, HEY KIDDO!, and so many more!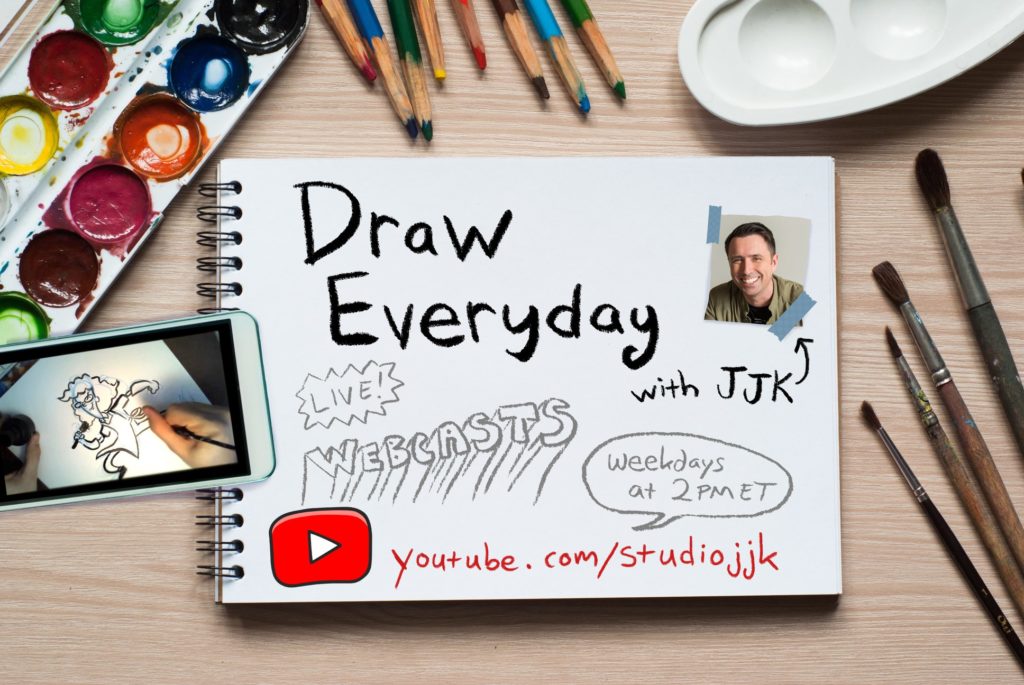 At 2pm ET, Jarrett will be doing a live webcast! And since it is on his You Tube channel, if you cannot watch live, they will be archived. We cannot wait to see what Jarrett will teach us to draw!
Mo Willems, author of the Elephant & Piggie Series, Pigeon Series, Knuffle Bunny Trilogy, and so many more!
Mo Willems is hosting a lunch doodle each day at 1pm ET. "Learners worldwide can draw, doodle and explore new ways of writing by visiting Mo's studio virtually once a day for the next few weeks. Grab some paper and pencils, pens, or crayons and join Mo to explore ways of writing and making together." Lunch Doodles with Mo ran for 3 weeks and ended on April 3rd.
During the month of May, Mo hosted Thank-O-Rama each Thursday in May at 1pm ET.
Matt Tavares

, author of Red & Lulu, Crossing Niagra, and so many more!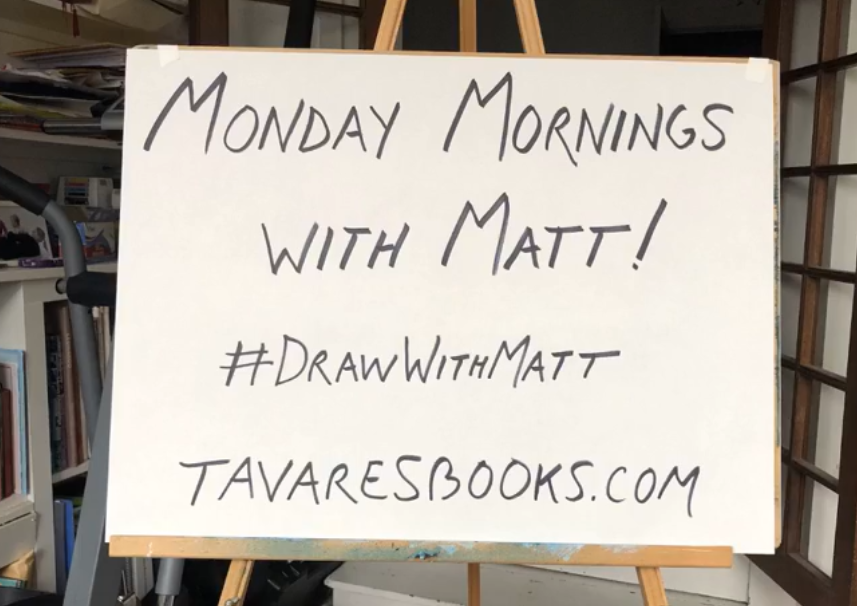 Matt Tavares, on his Facebook page live at 10am ET, is hosting Monday Mornings with Matt! The videos are saved on his page to view later.
More Art-Focused Activities
On his You Tube, Nathan Hale is doing an Adventure Comic activity called Cooped Up Comics and other fun activites!
These coloring pages from some of our favorite illustrators.
Access Art for Kids Hub for basic drawing videos for kids!
Many museums are offering virtual tours including the 12 shared in this article.
And many museums are stepping up on their blogs and websites to give us activities and resources to help with quarantine distance learning. For example, the Inside LSU MOA (LSU Museum of Art) blog has art activities and stories in art activity.
@MrsVelazquezArt has created a guide to art at home!
A wonderful blog that focuses on learning through play with lots of crafts and art activities is LearnCreateLove.
Crayola is hosting online seminars about creative thinking and learning. They also always have online resources to add creativity to your kids' lives.
Disney's YouTube channel includes #DrawWithDisneyAnimation!
The Knock Knock Children's Museum has started a Knock Knock at Your Door series to continue their objective even while closed.
Art Time Today with retired Elementary Art Teacher and Arts Ed Professor (and my Art in Elementary teacher at UCF!) Cheryl Smith includes lessons for all ages of kids!
Mark Siegel and the 5 Worlds team has released a free sample of their coloring book for the book series.
STEM-Related Activities
Zoologist, artist, and author Jess Keating is releasing Keating Creature Activity Pages with a new creature featured on each one!
Visit the Cincinnati Zoo at 3pm ET/1pm MST Live where they highlight an animal each day on Facebook Live and include an activity to do. (Available to watch later in the day, as well).
Find a science-related video at Mystery Science! (Free memberships with some content available).
The Shirley Journal blog created a 30 day LEGO Challenge calendar!
This doc shares Engineering Activities for Kids (when under quarantine).
The Georgia Aquarium has live webcams for their exhibits, so you can go under the sea at home.
Code.org is a nonprofit focused on getting computer science to every kid!
Mass Audubon has many resources including nature BINGO.
Kiwi Co., a company that has STEM focused monthly subscription boxes, is now updating their At-Home Resources for Kids (and their grownups) daily to help with STEM activities while schools are closed.
Oceans Initiative, whale experts from Seattle, have shared a free, virtual marine biology camp to entertain and inform kids while schools are closed.
MakerMaven has shared resources for distance learning including STEAM challenges and other STEM Resources.
The Orlando Science Center has created OSC At Home: Resources and Activities for Engagement and Education While at Home.
Ripley's Aquariums has an At Home page which has Live Events including storytimes, Q&As, and more; Educational Materials; and Live Streams.
Sea World has so much to offer: Animal Info Books, Classroom Activities, Teacher's Guides, Saving a Species video series, and Animal Bytes.
History and Social Studies Related
The Erie Canal History Museum has provided the public with a virtual tour on You Tube and Educational Resources.
Travel the world with Travel Kids.
[Canadian] "Indigenous educators volunteer to teach short K-8 lessons online amid school closures"
Little Passports, a company that has social studies focused monthly subsrciption boxes, has opened up their activities for fun learning at home to all.
Physical Education
Do some Cosmic Kids Yoga with the kids.
Virtual dance lessons for kids or the Just Dance Kids videos are uploaded on this account!
Music
There are live virtual concerts that are available to watch during the shutdown.
Multiple Curriculum Lessons
Scholastic has rolled out FREE! Learn At Home lessons that are very easy to follow Scholastic lesson plans (book, video, discussion questions)! They also shared that more will be coming.
PBS Learning Media has curated standards-aligned videos, interactives, lesson plans, and more for educators, and PBS Digital Studios has a ton of content in many different content areas.
Other Fantastic Learning Explorations
Our friend Jenny Seiler has put together an Edu Resources Padlet with lots of resources as well–it is separated by type of experience and is continuously being added to!
Join Miss Megan's Camp Kindergarten for Morning Meeting (ages 3-7)! Videos are posted to the website and can be accessed whenever you are eating breakfast!
Join Mr. Jon and Friends weekday mornings live for musical fun at 10:30am EST/ 7:30am MST (or watch later on the page).
Try out a free kids' recipe from Raddish Kids.
Go on a virtual field trip including 30 National Parks!
There is this great list of 150+ Enrichment Activities for children while their parents work remotely.
Zoom is being kind and allowing their service for free! Zoom will easily allow anyone to have face to face meetings. And a kind educator created a document for instructions for students/kids.
Learn in Color, another education-focused blog, has compiled "75+ Entertaining and Educational Activities for When You're Stuck Indoors" including a BINGO card to complete with the activities.
We Are Teachers is a fantastic resource for many resources including lists of podcasts, TED Talks, online learning resources, and, like us, they have curated a list of authors doing online reading and activities.
Disney and Kennedy Space Center are offering free online activities, such as Facebook Live events and imagineering in a box, for kids during school closures.
Washington Teachers' Union has created Lessons on TV where each day of the week will feature a 30-minute lesson for a particular grade group. (Mondays – Early Childhood 1st Grade; Tuesdays – 2nd & 3rd Grade; Wednesdays – 4th & 5th Grade; Thursdays – Middle Grades; and Fridays – High School)
John Krasinski is hosting Some Good News on You Tube. Not exactly education-focused, but it is good for life in general.
* Please note: Instagram Live recordings can be watched for 24 hours after the
recording before they expire, and they have to be watched from your phone.
What are some ideas that you've found? Share them in the comments! We are in this together. <3

Please note: This post was updated by us often from its publication until May 31st, 2020. After 5/31, the links and information may not be as accurate.