I CANNOT believe that my baby boy is already 9 months old (as of yesterday)! He is growing so quickly and is such an awesome little kid. We have continued reading as close to a book a day as possible and we are currently at 230 books! He's been alive 264 days so if you count rereads we are pretty close to a book a day.
I will say that a 9 month old is much harder to get to sit down and read a book than a 3 month old! Also, over these 3 months, we focused on doing a lot of rereads because I felt we were rushing too much through books and not finding favorites. Because of these factors, we only read 59 different books over these 3 months vs. 91 during 0-3 months and 92 during 3-6 months.
Today, I wanted to share some of our 20 favorite books that we've read over the last 3 months. I did not include any rereads on the list because our favorites had already been mentioned on our past lists: 0-3 months & 3-6 months.
1. Your Personal Penguin by Sandra Boynton
This is probably our favorite. It has a song of it sung by Davey Jones, and we follow along as we listen to the song. It is our go-to book right now.
2. Mini Myths by Joan Holub
I love that Joan Holub is turning myths into board books! They aren't very detailed, but they give basic information about the myth and teach a lesson.
3. Swing! and Waddle! by Rufus Butler Seder
Scanimation illustrations mesmerize Trent, and with the rhyming text, these books are so entertaining to read.
4. Five Black Cats by Patricia Hegarty
Trent really enjoyed this book. I think it is the rhythm of the rhyming prose mixed with the colorful illustrations.
(Fun side note: When we first picked this up to read, Jim said, "Let's read Five Black Cats." Then Trent responded with something that sounded very much like "Fie Back Cats." Probably a coincidence, but it was awesome!)
5. Goodnight, Gorilla by Peggy Rathmann
I couldn't believe I'd never read this book before! And I love that my husband pointed out the nuance that is the mouse in the book. He made me love it even more, and the simple story with strong illustrations holds Trent's attention.
6. You Are My Work of Art by Sue DiCicco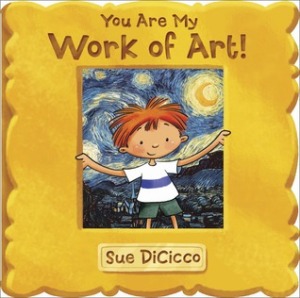 Such a sweet, sweet, sweet message AND it is told using classic works of art. This book is right up our alley!
7. Big Bug by Henry Cole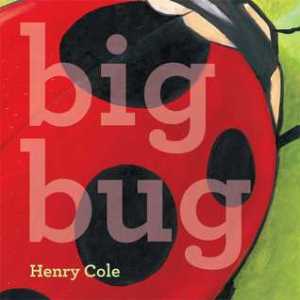 This is a great book about perspective. This is a tough concept to teach, so Cole's book will be great to help share it with Trent.
8. Books Always Everywhere by Jane Blatt
Loved the promotion of reading a books with little ones in this book.
9. Up Close by Gay Wegerif
This book teaches shapes, colors, and animals! Win!
10. The Runaway Bunny by Margaret Wise Brown
A classic with such a sweet message about mothers' true love.
11. Mike Mulligan and his Steam Shovel by Virginia Lee Burton
I remember reading this book as a child, but I hadn't remembered how good it was. It is a story of true friendship and perseverance.
12. Green Eggs and Ham by Dr. Seuss
I have found that sometimes when I read a Dr. Seuss book with Trent, it doesn't live up to my memory of the book; however, this one did! The rhymes and realization at the end are just done so well.
13. Kiss, Kiss Good Night by Ken Kesbitt
A sweet bedtime book with mom animals saying goodnight to their sweet babies.
14. Bob the Dog by Rodrigo Folgueira
Although the lesson at the end of the book was blatant, the illustrations, humor, and crazy characters makes this a new favorite for us.
15. Antic! by Cathi Hepworth
This is an ABC book like no other I've ever read. The inclusion of ANT in each word made it so the author had to stretch a bit, but the stretching what made it so the author had to be creative. There are some phenomenal words in this book.
16. This Moose Belongs to Me! by Oliver Jeffers
My husband read this book to Trent and it made us both laugh out loud. Another brilliant book from Oliver Jeffers.
17. Oliver by Birgitta Sif
I love the lesson that is taught in this one. It is one I look forward to reading to Trent when he gets older.
18. Pardon Me! by Daniel Miyares
Um, the ending!
19. The Girl and the Bicycle by Mark Pett
The illustrations are perfection and mixed with the sweet story of a kind girl make me read this to Trent multiple times (and since it didn't have any words, I was able to change up the story each time!).
20. Thomas the Tank Engine: Shapes and Sizes by Wilbert Awdry
This is one of Trent's favorite books. It is the one he pulls off the shelf (and usually puts straight in his mouth).
Almost. Baby Beluga by Raffi
I LOVED this song when I was a kid! When I read this to Trent, I pull up a You Tube video of Raffi singing, and we follow along. The book would have made the list, not been honorary, because we like the song and book; however, the ecology just isn't correct…
What books should Trent read in the next 3 months?