Every six months, I make an attempt to pick out the top ten picture books that Henry and I read together. This is incredibly difficult because we read so many fantastic books. But I understand, as a mom with a limited budget, that other parents may appreciate a list. We usually plow through library books and buy our favorites. Each of the books listed below is worthy of purchasing! With the holidays near, I recommend each of these. I am excluding my favorite books from our first top ten list (birth to six months). As I described in the first post, Henry, his dad, and I read books together every night, and we are excited to share these great books with all of you! They are in no particular order.
1. Goodnight Moon by Margaret Wise Brown
If you follow this blog, you know it is a tradition in our house to read this book every night. Henry is in love with it. His dad and I have the book memorized, and it has become our favorite. The way he reacts to each page and touches the red balloon and stars makes our hearts swell.
2. Freedom Summer by Deborah Wiles
This lyrical book moved me. It is worthy of the praise it has received and may be one of the best picture books I have ever read. I was inspired to read it after A.S. King discussed it in her article of The ALAN Review. This is a wonderful text is for people of all ages. I put it on Henry's birthday wish list.
3. Once Upon an Alphabet: Short Stories for All the Letters by Oliver Jeffers
Oliver Jeffers is, in my humble opinion, one of the best picture book authors writing today. He breaks the rules and displays his quirky, clever humor in each of his books. This is a great book to teach the alphabet to kids. Each letter has a silly short story, and several of the short stories are connected. This book made me laugh a lot, and Henry seemed to enjoy it, too!
4. Tree Lady: The True Story of How One Tree-Loving Woman Changed a City Forever by H. Joseph Hopkins (Linked to a Review by Kellee)
This nonfiction picture book tells the beautiful story of a remarkable woman, Kate Sessions, who brought trees to San Diego. The book is inspirational, and the illustrations are absolutely stunning. I intend to read many books about powerful women to Henry. 🙂
5. The Noisy Paint Box by Robert Munsch (Linked to a Review by Kellee)
This is a magical picture book that is well worth the hype it is receiving. It teaches about synesthesia and Kandinsky's childhood. It made me want to get out my paint box to listen to the sounds of the paint. After learning about his life, I will be buying a Kandinsky print!
6. The Magic of Maxwell and His Tail by Maureen Stolar Kanefield
This is precisely the kind of book that I want to read to my son. It teaches him that it is only okay to be different, but that he can use his differences in ways that make him special. I adored this book and will certainly read it to him again and again.
7. Buddy and the Bunnies: Don't Play with Your Food by Bob Shea 
I absolutely adored this silly, fun story of a group of bunnies who fool a monster to prevent him from eating them. Bob Shea is an incredible storyteller, and this book reminded me of the trickster stories my grandfather used to tell me as a child.
8. The Snatchabook by Helen Docherty
I wish I had thought of the idea behind this book! It is a great story for bedtime, and Henry was drawn into the magical illustrations and rhyming language.
9. And Tango Makes Three by Justin Richardson and Peter Parnell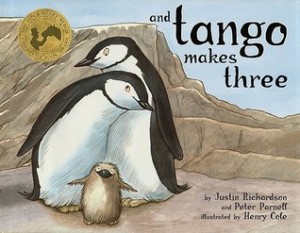 As one of the most censored books, you would expect this to be very controversial (rather than a true story about two penguins). I have always longed to read this book, and after reading it with Henry, I was surprised by how innocent and very well-written it is. I guess people like to challenge…the truth? Either way, censorship aside, this book is an excellent work of nonfiction that I highly recommend. I would use it to teach the value of family, but I guess I am a risk-taker. ::wink:
10. Owl Moon by Jane Yolen
Months after reading this book, I can still hear the "Whoo-whoo-whoo" of the owl and still feel the brisk, winter air. This text whisked us away into the setting, and it would be a great mentor text for teachers.
What are your favorite children's books? Henry and I would love to reserve them from the library! Please share!