"See the Seeds"
Once you start thinking about seeds, you might be surprised to see how many different kinds you encounter in daily life.
When you're planting a garden, of course you think about seeds. And when you're eating a slice of watermelon, you kind of have to think about seeds. But this summer, as I sliced tomatoes and the slimy guts slid out onto a plate, or when I ate a plum and spit out the little rock in the middle, I started to notice how many seeds I encounter in a day. Maybe you eat a handful of nuts as a snack—walnuts, pecans, almonds, pepitas—these are seeds. But so is your morning oatmeal, made from the edible seed of the oat grass plant! The bread most of us eat is made from flour that's the ground up seed of the wheat plant.
See how many seeds we can meet in one day! Maybe try keeping count to see how many kinds of seeds you eat or interact with in a day or a week.
As a child, I used to gather seed pods from the various kinds of trees in my neighborhood: bottle tree seedpods that looked like little boats, and others, from the Jacaranda tree, that looked like clam shells or tortoise shells; from the carob tree, hard brown pods that looked like giant snap peas and rattled like maracas when you shook them. Pinecones that looked like miniature Christmas trees and every once in a while had a seed still attached to a scale or two. And prickly balls from the Sweet Gum tree that look like Christmas decorations.
Finding these seeds when walking to school or to a neighborhood friend's house was a jumping off place for my imagination. But more importantly, it reassured me I lived in nature, that my life was part of a giant, beautiful cycle of life.
I've made some activity sheets about various kinds of seeds. Enjoy!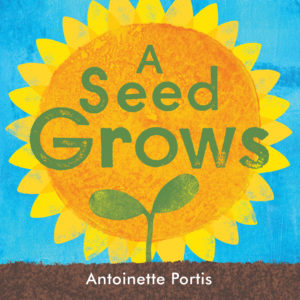 Published June 21st, 2022 by Neal Porter Books
About the Book: The transformative life cycle of a sunflower plays out in this bold read-aloud by Sibert honoree Antoinette Portis.
"A seed falls,
And settles into the ground,
And the Sun shines,
And the rain comes down,
And the seed grows…"

To understand how a seed becomes a sunflower, you have to peek beneath the soil and wait patiently as winding roots grow, a stalk inches out of the earth, and new seeds emerge among blooming petals.
With evocative and lively illustrations, A Seed Grows offers a close-up view of each step of this process and the ways in which flowers and seeds depend on other creatures, with a striking fold-out spread of a full-grown sunflower and additional material at the back of the book explaining the science of plant life cycles.
About the Author: Antoinette Portis is the author of many inventive books for children, including Not a Box, a New York Times Best Illustrated Book and a Geisel Honor Book; and the Sibert Honor Book Hey, Water!. Other books include A New Green Day, which was a Publishers Weekly Best Book of the Year, as well as the ALA Notable Books Wait and Now. A recipient of the prestigious Sendak Fellowship, Antoinette lives in Southern California where she grows her own sunflowers, like this one. 
https://www.antoinetteportis.com/
@aportisa on Twitter
https://holidayhouse.com/book/a-seed-grows/
@holidayhousebks on all platforms
Thank you, Antoinette, for sharing all of the amazingness of seeds!