"Bridging the Gap Between Middle Grade and Young Adult"
Making Friends With Billy Wong is a wonderful middle grade novel by Augusta Scattergood. The Mara Dyer novels by Michelle Hodkin make intriguing reading for young adults. But what about that elusive group in between—the kids who are too old for MG but not mature enough for YA?
There are different delineations for the age of a 'tween. For clarity's sake, I'm talking about the twelve to fifteen-year-old child. For me, this age group is the most intriguing. Tweens are both wise and naïve at the same time. They are testing their boundaries, but most still think twice before defying parents and teachers outright. They are discovering who they are; where they fit in the world; and the excitement, joy, and pain of innocent first love.
Unfortunately, books for this age group can be hard to find. It's a tough sell to agents and publishers, because they don't have a specific place for them in bookstores. There are no "'Tween" shelves that I'm aware of in libraries. Many writers know this so they concentrate on the more accepted and defined groupings. But there are those of us whose hearts can't be denied. We simply love writing for tweens.
I write for this age group because teachers and parents tell me they need "clean teen" for their kids to read. Because I know that the younger avid reader loves books that feature older version of themselves. Because parents of older reluctant readers tell me that, though their kids don't like to read, they actually finish my books. Because an inner-city teacher whose class I once visited told me her kids reading scores went up on a state test and the only reason she could think of was my book combined with my visit made an impression on them.
These accounts are rewards in and of themselves. They keep me in my seat in front of my computer. They keep me writing.
So, where do you go to find books in this elusive category? Searching the Internet for lists of books for 'tweens is helpful. However, as the category is defined by different parameters by different groups, you have to be discerning. Most lists include both MG and YA books. Goodreads has one of my favorites, a Listopia called, "Awesome Books for Tween Girls." The books are read and reviewed by readers, many of whom are parents, which I like. I couldn't find an "Awesome Books for Tween Boys." Hopefully some day they'll remedy that.
In the meantime, 'tween readers may be interested in one of these highly regarded books: "The Absolute True Story of a Part-Time Indian," an Amazon Bestseller by Sherman Alexie; "Criss Cross," a Booklist Starred Review by Lynne Rae Perkins; and "Every Soul a Star" a  School Library Journal Starred Review by Wendy Mass. There are many others available online and in bookstores. Search using "clean teen" or "books for 'tweens," and you'll find them.
About the Author:
Janet

McLaughlin has been involved in the communication field most of her adult life as a writer, editor and teacher. Her love of mysteries and the mystical are evident in her novels. She is a member of the Society of Children's Book Writers and Illustrators and the Florida Writers Association. She lives in Florida with her husband, Tom, and along with her writing, enjoys playing tennis, walking, traveling, and meeting people.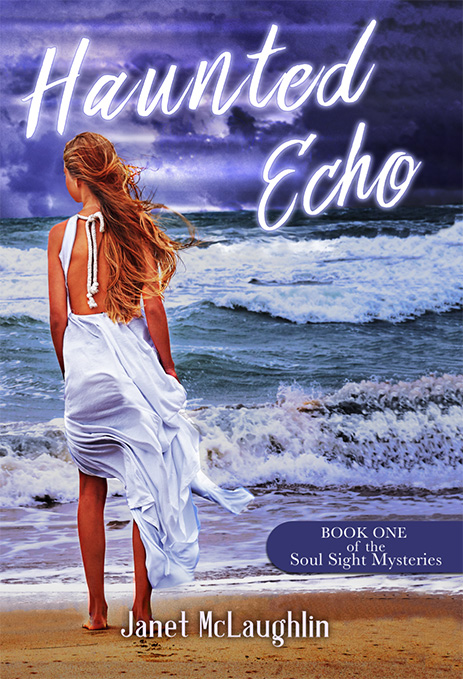 Haunted Echo: Book One of the Soul Sight Mysteries
Sun, fun, and her toes in the sand. That's what Zoey Christopher expects when she joins her best friend and fellow cheerleader Becca on an exotic Caribbean vacation. What she finds instead is a wannabe boyfriend, a voodoo doll, and Tempy – a tormented young ghost whose past is linked to the island grounds.Zoey has always seen visions of the future, but when she arrives at St. Anthony's Island to vacation among the jet set, she has her first encounter with a bona fide ghost. Forced to uncover the secret behind the girl's untimely death, Zoey quickly realizes that trying to solve the case will place her in mortal danger. Shaken and confused by a menacing threat and by her budding feelings for the too-cute, too-nice Chris, will Zoey find a way to survive this vacation and put Tempy to rest?
Fireworks: Book Two of the Soul Sight Mysteries (Coming Soon!)
Dreams aren't real. Psychic teen Zoey Christopher knows the difference between dreams and visions better than anyone, but ever since she and her best friend returned from spring vacation, Zoey's dreams have been warning her that Becca is in danger. But a dream isn't a vision—right?Besides, Zoey has other things to worry about, like the new, cute boy in school. Dan obviously has something to hide, and he won't leave Zoey alone—even when it causes major problems with Josh, Zoey's boyfriend. Is it possible he knows her secret?Then, one night, Becca doesn't answer any of Zoey's texts or calls. She doesn't answer the next morning either. When Zoey's worst fears come true, her only choice is to turn to Dan, whom she discovers has a gift different from her own but just as powerful. Is it fate? Will using their gifts together help them save Becca, or will the darkness win?Discover what's real and what's just a dream in Fireworks, book two of the Soul Sight Mysteries!
Thank you to Denise for connecting us with Janet!!