Top Ten Tuesday is an original feature/weekly meme created at The Broke and the Bookish. The feature was created because The Broke and Bookish are particularly fond of lists (as are we!). Each week a new Top Ten list topic is given and bloggers can participate.
 Today's Topic: Ten Books that Feature Non-Traditional Families
Ricki
1. The Inexplicable Logic of My Life by Benjamin Alire Sáenz
Sal's father just may be one of my favorite characters in all of the books that I've read. Sal is adopted and his father is gay. If I told more about the story, I would be spoiling much of the plot, but I will say that this book offers great commentary on the power of nontraditional families.
2. Kids of Appetite by David Arnold
The friendships in this book are incredibly powerful. The characters form a family-like friendship. It is reminiscent of The Outsiders.
3. The Unlikely Hero of Room 13B by Teresa Toten
The characters in this book form a support group that acts like a very supportive family. This is a fantastic book. The themes are richly realized, and the characterization is excellent.
4. The Serpent King by Jeff Zentner
I adore this book. I just finished reading it with my college students, and they loved it, too. There is so much to discuss. The families in this book are very intricate, and the three narrators hold a powerful family-like bond.
5. I'll Give You the Sun by Jandy Nelson
The brother and sister (Noah and Jude) in this book are going through an immense amount of grief. Jude, in particular, forms an untraditional family in the people that she meets. I absolutely love this book.
Kellee
1. Orbiting Jupiter by Gary Schmidt
Orbiting Jupiter is narrated by Jack. His family is asked to foster a young convict named Joseph who becomes a bigger part of their family than they'd ever expected.
2. Felix Yz by Lisa Bunker
Every day Felix's family eats dinner together, and they seem like a big, happy, traditional family. Well, aside from the fact that a fourth-dimensional being is melded with Felix, Felix's father was killed in an accident when Felix was three, and Grandy is different han most grandparents. Grandy spends Thursday, Friday, and Saturday as Vern; Sunday, Monday, and Tuesday as Vera; and Wednesday Grandy meditates naked alone all day. I love how Grandy's gender/sexuality is treated like normal in Felix's story!
3. Jess, Chunk, and the Road to Infinity by Kristin Elizabeth Clark
The last time Jess saw her dad, she was a boy named Jeremy. But now she is going to visit her dad for the first time as Jess. At his wedding. To someone who is not her mom.
4. Lightning Thief by Rick Riordan
Well, Percy's dad is Zeus. I think that fits the definition of non-traditional.
5. And Tango Makes Three by Justin Richardson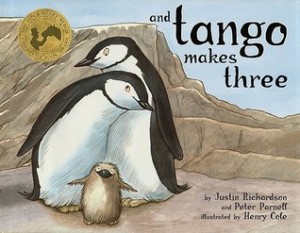 Based on a true story of two male penguins at the Central Park Zoo who raised a chick together. And they are such a happy family!
Which