Top Ten Tuesday is an original feature/weekly meme created at The Broke and the Bookish. The feature was created because The Broke and Bookish are particularly fond of lists (as are we!). Each week a new Top Ten list topic is given and bloggers can participate.
 Today's Topic: Top Ten Graphic Novels We Can't Believe We Haven't Read Yet
We don't feature graphic novels often on TTT posts. The Broke and the Bookish allowed us to pick any genre/form, so we were excited to explore graphic novels this week.
Ricki
1. Persepolis by Marjane Satrapi
I have always wanted to read this GN. Everyone raves about it. Now, I wish I had added it to my #mustreadin2015 list!
2. Maus II by Art Speigelman
I loved Maus I, so I would love to read the sequel.
3. Blankets by Craig Thompson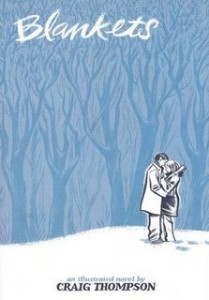 This graphic novel has received rave reviews, and the cover is beautiful
4. Stitches by David Small
Ever since this book came out, it has been on my TBR list. Why the heck haven't I read it yet?
5. El Deafo by Cece Bell
Arg! Why haven't I read this yet? It is on so many lists of top books from last year.
Kellee
I love graphic novels, and they are a large portion of my reading each year. These are the ones I just haven't gotten around to yet.
1. Blankets by Craig Thompson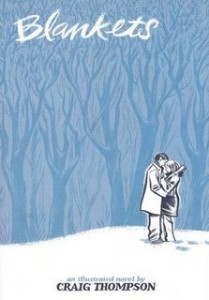 This is the one that I hear about the most when I say I love graphic novels: "You haven't read Blankets?!"
2. The rest of the Fables series by Bill Willingham
I read the first 12 of this series, and I was sucked into the world. Now I just need to read the rest of the GNs that have come out (and I'll maybe need to reread the first 12).
3. Spin offs of Fables by Bill Willingham
Fables has a couple of spin off series that I would love to read as well.
4. Boxers and Saints by Gene Luen Yang
I cannot believe I haven't read these yet! I love Yang's work, and I own them! Unacceptable.
5. Y: The Last Man by Brian K. Vaughan 
The premise of this GN series sounds so fascinating! "Y" is the only living male on the planet after a plague killed off all humans with the Y chromosome. Crazy!
Which graphic novels do you want to read?