It's Monday! What Are You Reading?
Sharing Picture Books, Early Readers, Middle Grade Books, and Young Adult Books for All Ages!
It's Monday! What Are You Reading? is a weekly blog hop co-hosted by Unleashing Readers and Teach Mentor Texts which focuses on sharing books marketed for children and young adults. It offers opportunities to share and recommend books with each other.
The original IMWAYR, with an adult literature focus, was started by Sheila at Book Journeys and is now hosted by Kathryn at The Book Date.
We encourage you to write your own post sharing what you're reading, link up below, leave a comment, and support other IMWAYR bloggers by visiting and commenting on at least three of the other linked blogs.
Happy reading!
Tuesday: Review & Giveaway: Playing with Lanterns by Wang Yage, Illustrated by Zhu Chengliang
Thursday: Snow Angel, Sand Angel by Lois Yamanaka, Illustrated by Ashley Lukashevsky
Saturday: Sofia's Kids' Corner: Charlie Thorne and the Last Equation by Stuart Gibbs
**Click on any picture/link to view the post**
Kellee
To see what books I've been reading, check out my 2022 Goodreads Challenge page  or my read bookshelf on Goodreads. I'll be back next week 🙂
Ricki
I finished Black Canary: Breaking Silence by Alexandra Monir. I love this book, which tells the story of DC Icon Black Canary, whose alter ego is Dinah Lance. There are rich themes related to government control, feminist, and social class. Monir reinterprets the story to connect Dinah's world with that of Monir's grandmother's experiences in Iran (although this is not explicitly stated in the book).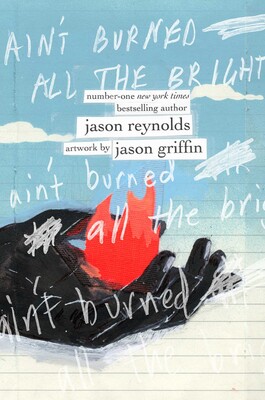 This book! Jason Reynolds writes, and Jason Griffin illustrates Ain't Burned All the Bright. But it is so much more than this. The writing and illustrations work together in an incredibly powerful way. This book was written in a moleskine and begs to be taught in classrooms. I've never read a book that was so connected to the current sociopolitical context of the world.
You Are Not Alone by the Alphabet Rockers (Pictures by Ashley Evans) explores the many instances in which children might feel different from others. At the end of each child's story, the reader states, "You are not alone." I really loved the repetition of this story. It felt like a song. My kids really enjoyed shouting YOU ARE NOT ALONE at the end of each story, and it really cemented the message in their brains. I would love to read this to a large classroom of students.
Ricki
I never read Last Night at the Telegraph Club by Malinda Lo last year and have felt like I've really missed out. So I am reading it now.
Tuesday: Tidesong by Wendy Xu
Saturday: Sofia's Kids' Corner: Keeper of the Lost Cities series by Shannon Messenger
Sunday: Guest Post from Punam V. Saxena, Author of Parent Power: Navigate School and Beyond
Link up below and go check out what everyone else is reading. Please support other bloggers by viewing and commenting on at least 3 other blogs. If you tweet about your Monday post, tag the tweet with #IMWAYR!