I need to pause everything in my life to tell you about these amazing, new puzzles by Sandra Boynton! If we didn't already know that she was witty, funny, and creative, this will seal the deal for us. Her three new puzzles range from 300, 500, and 1,000 pieces, and my family enjoyed all of them. My two-year-old was delighted by the bright images. Any time we put together an animal, he'd shriek, "COW!" My four-year-old took this opportunity to learn how to put together puzzles. My seven-year-old helped the most and was able to do a significant amount on the 1,000 piece puzzle! These are fun for the whole family. The first has a great play on words. The second has "puzzle complaints" which made my kids feel like they knew a lot about puzzles. And the third had hidden cows. Who doesn't love hidden cows?! Whether you are a puzzle family or not, you will love these. They offer an added layer of fun to family/friend puzzle night that is even charming and fun for the adults! I am so glad these exist in the world.
Teachers, these would make great group activities for rainy days, before- and after-school care, and study periods. I'd place a puzzle on a back table and leave it open for fast-finishers to work on while they wait for peers!
More information on each puzzle with images of the puzzles in completed form!: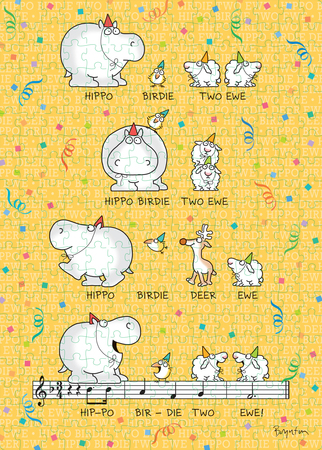 Hippo Birdie Two Ewe 300-Piece Birthday Puzzle (On-sale: July 6, 2021; $19.95), the famed Boynton birthday card (with over 10 million copies sold, so far!) is now in puzzle form. Start a new family tradition by presenting it on every birthday, and when all the pieces are in place, everyone can heartily sing: Hippo Birdie Two Ewe, Hippo Birdie Two Ewe! It's the gift that keeps on giving!
Filled with the signature humor of Sandra Boynton, Puzzle Complaints 500-Piece Puzzle (On-sale: July 6, 2021; $19.95) is a puzzle like no other. Containing all the typical (and not so typical) puzzle flaws: upside down lettering, suddenly changing fonts, a seemingly misplaced piece from another puzzle, inexplicably shouting chickens—the works—Puzzle Complaints is sure to inspire frustration and bursts of laughter!
Hidden Cows 1,000-Piece Puzzle (On-sale July 6, 2021; $19.95) is the ultimate game of hide-and-seek. At first glance, it looks like an ordinary evening at home, in the simple and tasteful living room of an ordinary pig family—mother, father, daughter, toddler, twin chickens. But look closely. As you carefully assemble the 1,000 pieces, you may begin to notice some surprising visitors: HIDDEN COWS. There are at least three of them. It's definitely subtle, though.
About Sandra Boynton:
Sandra Boynton is a beloved American cartoonist, children's author, songwriter, and highly sporadic short film director. Starting with the 1977 publication of Hippos Go Berserk!, Boynton has written and illustrated over sixty children's books and eight general audience books, including five New York Times bestsellers. Her renowned books include Barnyard Dance!, Snuggle Puppy!, Belly Button Book!, EEK! Halloween!, But Not the Hippopotamus, and The Going to Bed Book. More than 70 million of her books have been sold—"mostly to friends and family," she says. Boynton has also written and produced six albums of unconventional children's music, which include performances by Brian Wilson, Brad Paisley, Kevin Kline, Kacey Musgraves, Blues Traveler, Alison Krauss, Meryl Streep, Spin Doctors, Davy Jones, Dwight Yoakam, Patti LuPone, Neil Sedaka, and "Weird Al" Yankovic in a duet with Kate Winslet. Three of Boynton's albums have been certified Gold (over 500,000 copies sold), and Philadelphia Chickens, nominated for a Grammy, has gone Platinum (over one million copies sold). Boynton has also written and directed eleven short musical films, including "One Shoe Blues," starring B. B. King; and two animated shorts: "When Pigs Fly," sung by Ryan Adams, and "Tyrannosaurus Funk," sung by Samuel L. Jackson, which won the 2018 Grand Prize for Best Children's Animation Short from the Rhode Island International Film Festival. In 2008, Boynton received the Lifetime Achievement Award from the National Cartoonists Society.
Boynton has four perfect children, and an equally perfect granddaughter and grandson. She and her husband Jamie McEwan, a writer and whitewater expeditionist, raised their family on a very old New England farm (it's now a non-working farm, except for the hyperactive cartoon chickens and disaffected imaginary cows and such). Her studio there is in a converted barn that has perhaps the only hippopotamus weathervane in America.
Connect with Sandra Boynton:
Website:  sandraboynton.com
Twitter: @sandyboynton
Instagram: @sandra_boynton
Facebook: @sandraboynton
**Thank you to Claire from Workman for providing puzzles for review!**