It's Monday! What Are You Reading? From Picture Books to YA!
It's Monday! What are you Reading? is a meme started by Sheila at Book Journeys and now hosted by Kathryn at The Book Date. It is a great way to recap what you read and/or reviewed the previous week and to plan out your reading and reviews for the upcoming week. It's also a great chance to see what others are reading right now…you just might discover the next "must-read" book!
Kellee and Jen, of Teach Mentor Texts, decided to give It's Monday! What Are You Reading? a kidlit focus. If you read and review books in children's literature – picture books, chapter books, middle grade novels, young adult novels, anything in the world of kidlit – join us! We love this meme and think you will, too.
We encourage everyone who participates to support the blogging community by visiting at least three of the other book bloggers that link up and leave comments for them.
CONGRATULATIONS
Crystal for winning The Lost Girl giveaway!
Mary Alison for winning the Pumpsie giveaway!
Cassandra for winning the Duck and Hippo: The Secret Valentine giveaway!
Elisabeth for winning the Lost in the Antarctic giveaway!
Wednesday: Watch Hollow by Gregory Funaro
Friday: Complexity in Someday by David Levithan
Sunday: Author Guest Post!: "The Writing Process" by Lauren L. Wohl, Author of Extravaganza at the Plaza
**Click on any picture/link to view the post**
Kellee
It is time to celebrate Trent's birthday (HE IS GOING TO BE FIVE!), so today and next Monday I'll be spending time with my family. I'll be back on March 4th 🙂
Ricki
I finished the ARC of Jo Knowles' latest book, Where the Heart Is. I loved this book. It tackles issues not commonly seen in middle grade literature. The main character is questioning her sexuality in ways that felt very real to me. Her parents are struggling financially and aren't sure if they are going to be able to pay their mortgage. It's a powerful book about friendship, family, and identity.
My 5-year-old finished reading Fox the Tiger by Corey R. Tabor all by himself! We tackled three new pages each day, and I am so, so proud of him. Thanks to some of our fellow bloggers (Elisabeth, especially), we have a solid list of other engaging early readers in our future. I don't generally enjoy early readers, but there are some gems out there that I have loved.
Ricki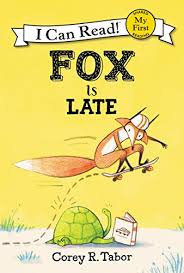 My son and I enjoyed Fox the Tiger so much that we are going back a year and reading the first book, Fox is Late.
I am a few weeks delayed, but I am excited to get to On the Come Up by Angie Thomas this week. I just have to read a couple of journal issues that I missed last month first. 🙂
Tuesday: Teacher Action Research
Wednesday: Trent's Favorite Reads as of his Fifth Birthday!
Thursday: Blog Tour with Reviews, Book Trailer, and Giveaway!: It's Not Hansel and Gretel by Josh Funk
Friday: Blog Tour with Review and Giveaway!: What If…? Then We…: Short, Very Short, Shorter-Than-Ever Possibilities  by Recebba Kai Dotlich
Link up below and go check out what everyone else is reading. Please support other bloggers by viewing and commenting on at least 3 other blogs. If you tweet about your Monday post, tag the tweet with #IMWAYR!