#MustReadIn2017 is hosted by Carrie Gelson at There Is A Book For That:
"For anyone out there with a To Be Read list that seems like it will never end, this challenge is for you! This is all about making your own personal list of books (5? 10? 20? 30? more?) that you commit to reading in 2016. Books can be published in any year, be from any genre, and be from any category (adult, YA, MG, Graphics, NF, etc.).  As your TBR list grows, you promise you will get to the books on this list."
Our (hopeful) #mustreadin2017 Lists:
Ricki
Whew. I have not been doing a good job. Similar to Kellee, below, I have had some major obligations. I wrote a 280-page dissertation! I am hoping to fly through some of these books right after I graduate next month. 🙂
March by John Lewis
This book. If you haven't gotten to it yet, read it. It's simply incredible
Kellee's Review from July 12, 2017
Highly Illogical Behavior by John Corey Whaley
Yes, yes, yes. I learned so much about agoraphobia, but I also learned so much about friendship and what it means to be human.
The Great American Whatever by Tim Federle

This book is phenomenal. I feel fortunate to have read it. After Quinn's sister passes away, he holes himself up in his house. This book is raw, and it feels real. Tim Federle also manages to add a lot of humor in the text.
Kellee
Since our Spring Update five months ago, I have been able to put a significant dent in my #mustreadin2017 list! I still don't know if I am going to finish them all, but I am proud of where I am: I've read 9 out of 20!
Belzhar by Meg Wolitzer
Belzhar is so brilliantly crafted and is a fascinating look at the teenage mind, love, guilt, depression/mental illness, friendship, and literature, and I am so glad that I read it (FINALLY, as Jessica Moore would say).
Highly Illogical Behavior by John Corey Whaley
Oh man. The feels that this book gave me! Sol will always have a special place in my heart! And the audiobook was really quite well done.
The Hunted by Matt de la Peña
I am so mad at myself for waiting so long to read The Hunted! I loved The Living, and I loved The Hunted. It is interesting though because they are two very different dystopian/post-apocalyptic stories because they deal with two different conflicts, but you really need to read both to understand the full devastation you are just introduced to in The Living.
March by Jon Lewis and Andrew Aydin
This series meant to much to me! Please read my review because I lay it all out. AND I GOT TO MEET JON LEWIS!!!
Posted by John David Anderson
Posted is a must-have for middle school libraries and classrooms. It is funny yet leaves you with a really important message.
Simon vs. the Homo Sapien Agenda by Becky Albertalli
Simon vs. the Homo Sapiens Agenda is just a perfect high school story. It has the right bits of snark and romance and drama.
The Sun is Also a Star by Nicole Yoon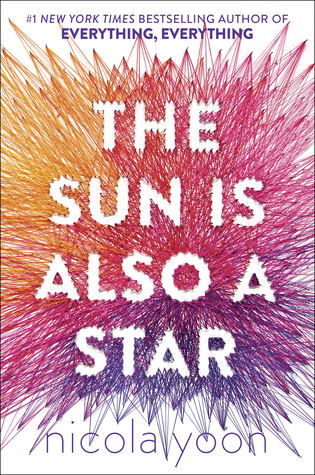 The Sun is Also a Star is a love story. But it is also a story of how people affect those around them. And it is a story about parents' impacts on their kids' lives. It is a entanglement of feelings that leaves you satisfied at the end.
Wolf by Wolf by Ryan Gaudin
WHOA! This is such a messed up series! But so good. As soon as I finished the first one, I had to read the second one. It is terrifying to think about a world where Hitler still rules but it is even more terrifying to think how our world actually fits some of they dystopian tones of a fiction story with that plot line.
What have you read from your #mustreadin2017 list so far?