It's Monday! What Are You Reading? From Picture Books to YA!
It's Monday! What are you Reading? is a meme started by Sheila at Book Journeys and now hosted by Kathryn at The Book Date. It is a great way to recap what you read and/or reviewed the previous week and to plan out your reading and reviews for the upcoming week. It's also a great chance to see what others are reading right now…you just might discover the next "must-read" book!
Kellee and Jen, of Teach Mentor Texts, decided to give It's Monday! What Are You Reading? a kidlit focus. If you read and review books in children's literature – picture books, chapter books, middle grade novels, young adult novels, anything in the world of kidlit – join us! We love this meme and think you will, too.
We encourage everyone who participates to support the blogging community by visiting at least three of the other book bloggers that link up and leave comments for them.
Last Week's Posts
**Click on any picture/link to view the post**
Tuesday: Ricki's Favorite Reads of 2016
Wednesday: Natumi Takes the Lead by Gerry Ellis
Friday: Kellee and Ricki's #MustReadin2016 Final Update!
Sunday: HAPPY NEW YEAR!
 Last Week's Journeys
Kellee
HAPPY NEW YEAR!
I love breaks for three main reasons: 1) Family, 2) Sleep, & 3) READING TIME! This last week, I read some truly amazing books! I am working on reading a good number of titles for our Mock Newbery Club, so I have been reading some of the best 2016 middle grade books out there! This week I got to The Seventh Wish by Kate Messner, All Rise for the Honorable Perry T. Cook by Leslie Connor, and The Inquisitor's Tale by Adam Gidwitz. All three are very much worth the read and definitely a discussion in our Mock Newbery Club, but Perry T. Cook  is special, and I am so glad that I read it.
I also read a Caldecott favorite this week, and I can see why everyone is raving about it! They All Saw a Cat by Brendan Wenzel is an interesting look at perspective and imagination.
Oh! And I finally read a best book of last year, and it has become an instant favorite for me. Orbiting Jupiter by Gary D. Schmidt is a perfect book; I loved every second.
Lastly, I read a few titles for review, Your Alien Returns by Tammi Sauer, The Book of Heroines & The Book of Heroes from National Geographic, and Ellie Ultra by Gina Bellisario, and I look forward to sharing them all with you in the near future.
P.S. I AM SO EXCITED to share my favorite reads of 2016 tomorrow! I hope you check it out 🙂 
Ricki
I am back in the groove! It took me a little while, post-baby, to get back on track with reading. I may falter a bit as I finish my dissertation, but I am reading several solid books that are keeping me up at night!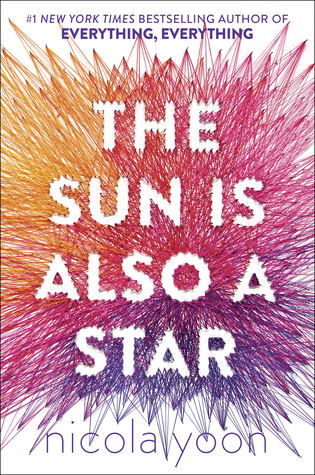 I loved The Sun Is Also a Star by Nicola Yoon and will be presenting it at a roundtable at NCTE (if the proposal is accepted). What a powerful book! It took me a little time to finish it because I was listening to it, but I am so glad I've read it and experienced this beautiful story.
This Week's Expeditions
Kellee
I hope to finish a couple of more books tomorrow and Tuesday before the kids come back on Wednesday. The first book I'm going to read is another Mock Newbery Club book:
I also have two graphic novels I want to read and one novel for an upcoming blog tour:
After that, I hope to have a few ebooks that are on hold at the library for me become available, so I will let you know what I get to.
Ricki
I've been raving about Enter Title Here by Rahul Kanakia. I have about 100 pages left, and then I will share more, but (spoiler alert) GET IT!
Upcoming Week's Posts
Tuesday: Kellee's Favorite Reads in 2016
Wednesday: Dining with Dinosaurs by Hannah Bonner
Thursday: Kellee and Ricki's #mustreadin2017
Friday: Your Alien Returns by Tammi Sauer
Sunday: Author Guest Post
 So, what are you reading?
Link up below and go check out what everyone else is reading. Please support other bloggers by viewing and commenting on at least 3 other blogs. If you tweet about your Monday post, tag the tweet with #IMWAYR!