Top Ten Tuesday is an original feature/weekly meme created at The Broke and the Bookish. The feature was created because The Broke and Bookish are particularly fond of lists (as are we!). Each week a new Top Ten list topic is given and bloggers can participate.
 Today's Topic: Villains
Halloween came early.
Ricki
1. Satan in Paradise Lost by John Milton 
Satan seems to star in a lot of novels, but he really shines in this one. 😉
2. Grendel's Mother in Beowulf by Unknown
If anyone harmed my son, I'd turn into Grendel's mother.
3. Anna from Anna Dressed in Blood by Kendare Blake
She gives me the shivers!
4. O'Brien from 1984 by George Orwell
He is so methodical. You can't help but respect that.
5. Abigail Williams from The Crucible by Arthur Miller
She is one of the ultimate villains in history and literature.
Kellee
There are so many great villains in YAL, but I tried to narrow it down to the most infamous! If you want to know who I would have included in a longer list, I'd be happy to share.
1. Voldemort (and Umbridge and Beatrix Lestrange) from the Harry Potter series by J.K. Rowling
How can I not include them? Harry's epic 7 book battle with Voldemort and his legions is the best hero vs. villain story ever.
2. The villain from The Skinjacker Series by Neil Shusterman
I cannot tell you who it is, but s/he is one of those villains that really believes they are doing what is best where actually they are twisted and evil.
3. Aaron and Mayor/President Prentiss from the Chaos Walking series by Patrick Ness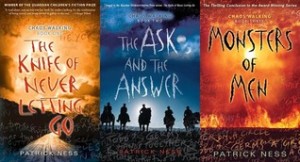 A sociopath in power is just the scariest thing in the world.
4. The government in the Uglies series by Scott Westerfeld
I know this isn't exactly following the theme, but I think the government that Westerfeld built in the Uglies series is the most dystopic and evil, so I had to include them.
5. Leck from the Graceling Realm series by Kristin Cashore
The way that Cashore builds Leck's character throughout all of the books is brilliant.
Who are your favorite villains?