Top Ten Tuesday is an original feature/weekly meme created at The Broke and the Bookish. The feature was created because The Broke and Bookish are particularly fond of lists (as are we!). Each week a new Top Ten list topic is given and bloggers can participate.
 Today's Topic: Top Ten Books From Childhood (or Teen Years) We'd Like to Revisit
These are favorite books from childhood which we hope to revisit someday.
Ricki
1. The Phantom Tollbooth by Norton Jester
The only thing I remember about this book is that I really, really liked it. I just bought it to read to my son, but I am waiting until he is a bit older.
2. The Secret Garden by Frances Hodgson Burnett
I must have read this book and watched the movie hundreds of times. This book has a firm place in my childhood. My son will be watching it.
3. A Little Princess by Frances Hodgson Burnett
You can only imagine how shocked I was (just now) when I discovered that The Secret Garden and A Little Princess, both of which I doted on as a child, are written by the same author. I feel like an idiot for not knowing this!
4. Little Women by Louisa May Alcott
Let me count the ways I loved this book as a child. I would love to reread it.
5. Mrs. Frisby and the Rats of NIMH by Robert C. O'Brien
This book was quite important to my childhood. Those rats were pretty dang smart!
Honorary Mention: Charlotte's Web by E. B. White
Who didn't love Charlotte's Web? I am curious if I would like this book as much as an adult as I did as a child.
Kellee
My favorite books as a child were Roald Dahl and The Baby-Sitters Club. I've been lucky to have revisited most of Roald Dahl's books and BSC books 1-31 in the last ten years or so (though I'd always love to reread them again) which is why I have not included them. Here are some other favorites I'd love to reread.
(P.S. I also loved Flowers in the Attic by V.C. Andrews when I was a teen, but I reread it a few years ago as well. Not as well written or scandalous as I remembered.)
1. A Tree Grows in Brooklyn by Betty Smith
This was my coming-of-age book. It was my mom's favorite, but I wasn't allowed to read it until I was 12 so the anticipation was extreme. It became my first "big book" and my first book with very tough themes. But I loved it so! I would love to reread it to visit Francie Nolan again.
2. B is for Betsy (and other Betsy books) by Carolyn Haywood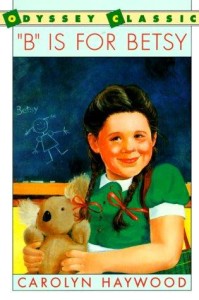 Betsy is another special book because of the bond it created with my mom. She would read the Betsy books to my sister and I before bed. I loved following Betsy's adventures! (I want Betsy to make a comeback! Fans of Jennifer Holm and Kate DiCamillo would love her!)
3. Beezus and Ramona (series) by Beverly Cleary
Who doesn't love this series?! Ramona Quimby is such a spitfire! These books cracked me up and were a perfect move up from Betsy.
4. Sideways Stories from Wayside School (series) by Louis Sachar
After Ramona, I moved to Louis Sachar books. Sideways Stories was probably my favorite because it was just so odd!
5. The Last Vampire (series) and others by Christopher Pike
In high school, I moved into reading R.L. Stine's Fear Street and Christopher Pike, but my favorite were by far Pike's Last Vampire, Remember Me,  Chain Letter, and Final Friends; however, The Last Vampire was the one I reread a few times. I'd love to revisit it to see why I liked it so much.
Honorary Mention: A Wrinkle in Time by Madeline L'Engle
I added this one because I read it in 6th grade in Miss Spalding's class and really, really didn't like it. I think now, as a more mature reader, I may like it more, so I would love to reread it one day.
Which books from your childhood would you love to reread?