Top Ten Tuesday is an original feature/weekly meme created at The Broke and the Bookish. The feature was created because The Broke and Bookish are particularly fond of lists (as are we!). Each week a new Top Ten list topic is given and bloggers can participate.
 Today's Topic: Top Ten Books on our Summer TBR Lists
Ricki
I can only pick five?
1. Life in Outer Space by Melissa Keil
Kellee mentions this book about three times a week, so I know it has to be good!
2. The Storied Life of A.J. Fickry by Gabrielle Zevin
I have heard wonderful things about this book. My friend just downloaded the audiobook, and we are going to listen to it together. 🙂
3. Lies We Tell Ourselves by Robin Talley
I found this book on NetGalley, and it looks phenomenal. It is set in 1959 Virginia and about two girls who are on opposites sides of the civil rights movement. They are forced to work together on a school project.
4. Hidden Like Anne Frank by Marcel Prins and Peter Steenhuis
This book is a collection of fourteen true stories about children who were hidden in World War II. It sounds like a very emotional read.
5. Grasshopper Jungle by Andrew Smith
Grasshopper Jungle was on my TBR list for the winter. I read Winger and haven't gotten to this one yet!
Kellee
I am so bad about planning what I am going to read, these TBR lists are so hard for me! So, today I decided to share what I plan on reading Trent this summer.
1. If You Were a Penguin by Wendell and Florence Minor 
Such a cute penguin! I love penguins, and I cannot wait to share this penguin book with Trent.
2. Trucktown: Truckery Rhymes by Jon Scieszka
I love Jon Sciezska and this poetry anthology is so much fun!
3. Never Play Music Right Next to the Zoo by John Lithgow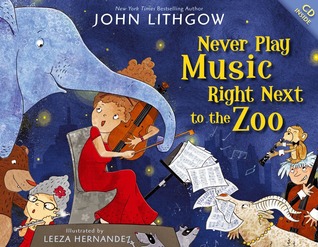 My parents gave this to me as a baby shower gift, and I just haven't gotten to it yet; however, I really want to this summer! It also has a CD with it that John Lithgow reads which I know will be very entertaining.
4. You Can Be Anything by Charles M. Schulz
What a perfect introduction to Snoopy for Trent!
5. Life Doesn't Frighten Me by Maya Angelou
I want to share this beautiful book with Trent in honor of Maya Angelou's life (and Jean-Michel Basquiat's illustrations are superb).
What books do you plan to read this summer?