Top Ten Tuesday is an original feature/weekly meme created at The Broke and the Bookish. The feature was created because The Broke and Bookish are particularly fond of lists (as are we!). Each week a new Top Ten list topic is given and bloggers can participate.
 Today's Topic: Top Ten Best Series
Today's topic is supposed to be the Top Ten Best/Worst Series Enders. We didn't want to be too negative, so we decided to share our favorite series, instead.
Ricki

1. The Boxcar Children Series by Gertrude Chandler Warner
This series helped me learn to love to read when I was a child. Sometimes, series get a bad reputation, but many kids learn to love to read through series books, so I couldn't exclude this important collection from my top ten list. The kids in this series show incredible strength and are great role models for readers.

2. The Graceling Realm by Kristin Cashore
I am sorry I keep bringing this series up in my posts, but it is my all-time favorite series, so it must make this list. The world-building is incredible and the characterization is beautifully written. I don't usually enjoy the series books that others rave about, but Cashore shows that authors can really do it right. 🙂
3. The Hunger Games Series by Suzanne Collins
I love this series because it has such widespread appeal. These books were very enjoyable to read, and I loved sharing them with students because they hooked so many of my kids to reading. There are some great themes for teachers to discuss, and my students and I had a lot of fun viewing these books through the lens of 1984.
4. Nancy Drew Series by Carolyn Keene
I am convinced that I am so good at predicting story twists because of this series. Nancy Drew taught me to look for clues in books and make solid predictions. I haven't read one of these books in about two decades, but I am convinced they developed me as a reader.
5. The Berenstain Bears Series by Stan, Jan, and Mike Berenstain
I bet you weren't expecting this one! Who doesn't love the Berenstain Bears? They have been teaching kids moral lessons for decades, so they need to be on this list.
Kellee
I love so many series, so this one was very hard for me. I second Ricki's Graceling Realm as it is brilliant and these are my favorites.
1. Baby-Sitters Club series by Ann M. Martin
This series, I believe, is why I am such an avid reader. I owned hundreds BSC books and loved them all. As an adult I've been collecting them to A) reread & B) for my children. I just love how each girl (and Logan) had a different personality and the books dealt with some really important situations. Such a great series!
2. Chaos Walking trilogy by Patrick Ness
Brilliant. I remember reading A Knife of Never Letting Go and knowing that the book was so important. Then when Monsters of Men won the Carnegie Medal, I knew that the masses had seen how amazing this series was.
3. Betsy books by Carolyn Haywood
My mom read these books when she was a little girl then she read them to me when I was a little girl and if I have a little girl, I will read them to her. Betsy was a great companion during my early childhood.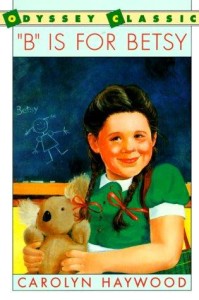 4. The Giver Quartet by Lois Lowry
The Giver has been my favorite book since I read it in 1993. Though I was very satisfied with the ending and loved the ambiguity of deciding what happened to Jonas, when another book came out in 2000 then another in 2004 and finally the series finale in 2012, I had to read them all and I loved them. I think the way Lois Lowry writes is magical and the world of The Giver is brilliant, so I would read anything by her, set there.
5. Alex Rider series by Anthony Horowitz
This series was my first series that I began reading when I started teaching. During my literature degree, my love of reading faltered (lit degrees are tough! And make reading such a chore!), but when I decided to become a teacher, I started reading middle grade and young adult books. I remember reading Stormbreaker and knowing I had to read the whole series. I have not stopped book talking this series since then.
Honorary. Ramona series by Beverly Cleary, Harry Potter series by J.K. Rowling, Doctor Dolittle series by Hugh Lofting, Percy Jackson and the Olympians by Rick Riordan, Skinjacker trilogy by Neal Shusterman, (adult) Spellman Files series by Lisa Lutz
I had to mention all of these because they are so great as well. I had a hard time picking the top 5, so I wanted to list these other amazing series as well.
Which series do you love?